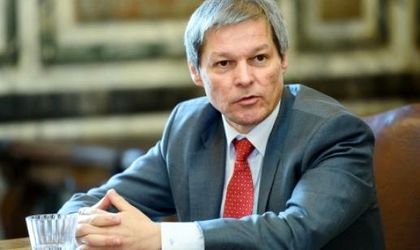 In a recent interview for Hotnews, Romanian PM Dacian Ciolos said he does not holds back from getting involved again as head of government after the December 11 elections, should there be a majority that supports his recently launched platform Romania 100.
In addition, the Romanian PM said he will not enter a coalition government made up of the National Liberal Party (PNL) and the Social Democratic Party (PSD) and, as a rule he will not be part of a PSD government. "I do not hold back from getting involved as I did last year; I do not see myself in a PSD government," the PM told journalists.
Ciolos also said it was unlikely that he will join a party, and will not do so for the sake of it. Also, the PM said he will not get involved with the elections campaign.
Speaking of his recently launched platform, Ciolos said: "I would like to say what this platform is not, because I saw all sorts of discussions [saying] there is something missing, that it does not have enough substance, that things are not clear-cut. This platform does not aim to be a governing platform. I wanted to put on the table for public debate some principles – starting from the experience of several months of governing – some healthy principles and which must sit at the basis of any governing program. Some principles that are not just declarations, as some party leaders were saying; it is important to not just talk about these things, but to implement them.
Secondly, at the other end of the platform, beyond the principles, I put some projects that we started and I believe should be continued," the PM said.
"It is important to discuss during this campaign not only about people, about personal issues of one candidate or the other, but also about certain principles, values and then also about concrete ideas," the PM said.
Speaking from Brussels, Romanian President Klaus Iohannis said Dacian Ciolos was a good option for the position of prime minister after the elections, granted that he receives the support of political parties.
Parliamentary elections are scheduled to take place on December 11.
Georgeta Gheorghe