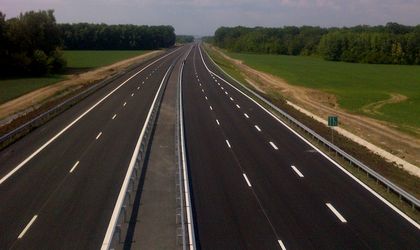 Works on section 3 of the Orastie-Sibiu highway are to be completed in 2018, prime minister's advisor for transport infrastructure Catalin Drula announced on Wednesday.  
Section 3 of the Orastie-Sibiu highway is expected to be completed in 2018, as it requires technical expertise to identify the things that are still required, as well as a corresponding project to address them. However, according to Drula, the section will be open and can be used starting this autumn.
"We consulted with experts and specialists on the causes on the situation there  (…) and the unanimous opinion is that we are not dealing with deep-level landslides, but instead with problems caused by the fact that drainage and water collection works were left unfinished (or improperly conducted)," Drula wrote on his Facebook page.
"We are talking about massive works and about a timetable to rehabilitate all affected areas that can stretch up to 2018 (also taking into account the time needed to conduct the expertise and project in question)…In the meanwhile, the 22 km of highway would remain unused and the parallel national road would continue to cause deaths," Drula wrote.
According to Drula, data provided by the Pro Infrastructure Association shows that since the highway was closed, in September 2015, and up until now, on the parallel road there were 17 serious road accidents, which caused 7 deaths and injured 37.
In July, Minister of Transport Sorin Buse visited section 3 of the Orastie-Sibiu highway and confirmed that the section will be open to traffic in September 2016.
The Orastie-Sibiu highway part of the Trans-European Transport Network, is projected to have 82.07 kilometers. The European Commission has contributed with EUR 510 million from the Cohesion Fund.  Sections 1 and 2, with a length of up to 44 kilometers, were open to traffic in 2013, while sections 3 and 4 were open one year later. Section 3 is subject to a criminal investigation initiated after a portion of the road, in the vicinity of the Aciliu viaduct started showing deep cracks, which made it unsuitable to traffic.
Georgeta Gheorghe