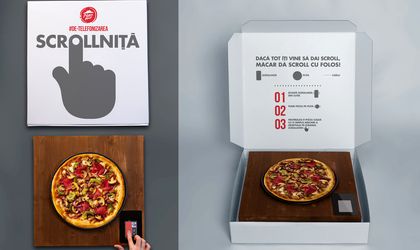 In order to discourage the use of mobile phones during the meals, restaurant chain Pizza Hut and PR agency Golin have invented the scrollnita, an innovative device that has the role of maintaining the pizza warm. The device captures the energy from the scroll move on the tactile screen. Therefore, instead of concentrating on the smartphones, the clients are helped to scroll only "with use", while they are making conversation with their friends.
"The food became way too functional, we keep forgetting more and more to enjoy the simple meals in town. The mobile dependency is one of the causes. Our partner Golin helped us introduce this invention that treats with humor the mobile dependency- you can continue to scroll while you are at the table, but not in order to check the news on the phone, but to keep the pizza warm, while you are enjoying the conversation and the moments spent with your friends," said Monica Eftimie, chief marketing officer at Pizza Hut.
"In the context in which the smartphone has become almost a continuation of us, the scroll on the screen became almost a reflex. Therefore, we wanted ti find a solution in order to value this gesture and offer it a new significance, one that wouldn't only help us to enjoy the pizza even more, but it also stimulates us to socialize with other persons at the table. The touch of humor in this concept is also highlighted by the name of the device, a Romanian adaptation of this activity that so many smartphones' users are addicted of," also added Irina Roncea, director Golin.
Scrollnita is formed of two components: the hob, where the pizza is put, and the scrolling device with tactile screen and an electronic incorporated system that allows the hob to heat while the users is scrolling. By repeating the move, the hob can heat up to temperatures of over 60 degrees Celsius. The way of using the scrollnita is described in detail in the presentation video.
The scrollnita prototype is available in the Pizza Hut Dorobanti restaurant in Bucharest and the ones that accept Pizza Hut's challenge can order it at the table, along with the pizza.
The teams that worked on this project comprise:
Pizza Hut: Monica Eftimie – chief marketing officer, Cristina Porumbel – senior brand manager, Ana Cucuta – brand manager and Claudia Porojan – PR manager.
Golin: Golin Irina Roncea – director, corporate division, Alina Stefan – manager, corporate division, Georgiana Stan – senior events associate, Florentina Grosu – media associate, Raluca Duta – chief of Bridge, Catalina Soare – digital manager, Gabriela Bumb – junior digital associate,
Mullen Lowe: Valentin Lica – senior copywriter and Robert Soparlache – senior art director
Romanita Oprea