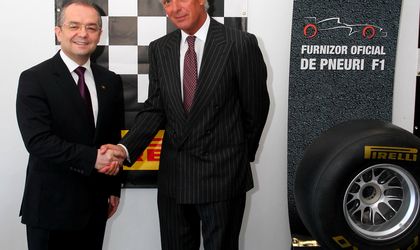 The Romanian Prime Minister, Emil Boc, inaugurated yesterday the extension works of the tyre factory in Slatina – Olt County, accompanied by the Chairman of Pirelli, Marco Tronchetti Provera, and the Italian ambassador in Bucharest Mario Cospito. The event also saw the participation of Giuseppe Cangelosi, general director of Pirelli Tyres Romania.
Pirelli will invest EUR 160 million for the extension of the Slatina factory, which began in 2008 and is expected to be finalized by 2013, with the aim of increasing production capacity. The extension project received the support of the Romanian government through funding of approximately EUR 28 million.
"Romania, where we are already well established on both the industrial and social levels, is a key country for Pirelli's worldwide growth. The car tyre and steel cord factories in Slatina constitute a point of strength in the group's industrial strategy. The tyre facility is one of the biggest car tyre factories in the world and allows Pirelli to satisfy the market's demands in the premium segments, which are growing at a fast pace both in Europe and the rest of the world", said Giuseppe Cangelosi, general director of Pirelli Tyres Romania.
Between 2005, the year of its arrival in Romania, and 2010, Pirelli invested EUR 300 million, which will climb to over EUR 450 million by 2014, in the industrial hub at Slatina which includes a factory for car tyres and a factory for the production of steel cord (the metallic ribbon used in radial tyres). The company also owns a factory for anti-particulate filters for diesel engines in Bumbesti Jiu – Gorj County.
Thanks to additional investments, the car tyre factory in Slatina will see its annual production rise from the 7 million pieces expected at the end of 2011 to 10 million pieces by the end of the extension project and the extension of its area, initially 100,000 square meters and already today grown to 160,000 square meters, will increase to 175,000 square meters. The Slatina tyre factory will become Pirelli's biggest worldwide. It has been equipped with the highest non-robotic production technology for premium tyres.
Today the Slatina hub employs 2,400 people between tyre and steel cord activities, and this is destined to grow to 2,700 by the end of the project thanks to 1,000 new hires, of which 70% have already been made, linked to the extension investment.

Ovidiu Posirca