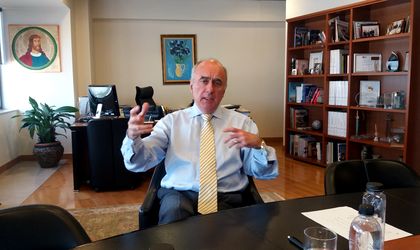 Catalin Parvu, the CEO of Piraeus Bank Romania, says the passing to pay draft bill will have an impact of the lender's portfolio, if it gets enacted into law.
Although he refused to say if this draft bill could be turned down at the Constitutional Court, he cited the opinion of a judge.
"I will answer you by citing a statement made by judge Ghica from the CSM (Alina Ghica of the Superior Council of Magistrates – e.n.), who said that if the non-retroactivity principle is not respected, then the law is unconstitutional," said the executive in an interview for HotNews.ro.
Parvu said he didn't know for sure the exact impact of the passing to pay bill on the bank's loan book, but he made an estimation.
"It is possible to impact 20 percent of the portfolio. It depends on the reasons for which the building was acquired: as a home or for investment purposes," said the banker.
The bill has passed the judicial committee at the Chamber of Deputies and is pending a final vote in Parliament.
Central bank governor Mugur Isarescu has already warned that the legal initiatives in the financial sector, which bear the retroactivity principle, pose a "severe systemic risk".
Daniel Anghel, who became coordinator of the Coalition for Romania's Development starting this year, told BR in an interview that the Romania could be fined by the European Commission, if this bill doesn't transpose the EU legislation.
"In case the law is not respecting a EU Directive that has to be transposed into Romanian local legislation in the spirit and the sense of the Directive, then we might have an infringement", said Anghel.
The Coalition comprises the largest private sector associations in the country.
Ovidiu Posirca
Photo source: HotNews.ro.