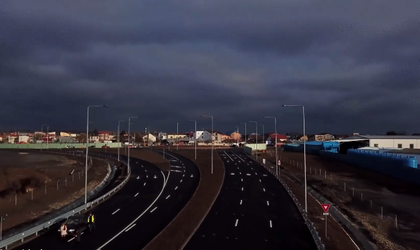 The National Company for Road Infrastructure Administration (CNAIR) will inaugurate this afternoon a 3.3 kilometer segment of the Bucharest – Ploiesti Motorway, built by Greek company Aktor.
Although work remains to be done outside the Urban Motorway, the part of the A3 Bucharest-Ploiesti motorway which enters the capital, with a total length of 6 kilometers, the rest of the construction can be carried out without affecting road traffic.
The new construction reception regulation now allows traffic to be opened on a motorway segment even if no final reception has been made, allowing subsequent completion of the remaining work.
The CNAIR signed the contract in December 2015 for the construction of 3.3 kilometers of the Bucharest – Ploiesti highway entering the Capital via the Petricani area. The segment's total value is RON 129.18 million, and the warranty period for the works is 48 months after the construction is completed.
In addition to the completion of the two big nodes included in the contract (Bucharest and Moara Vlasiei), the project included the construction of road nodes at Popas Street and in the Gherghiţei – Petricani area.