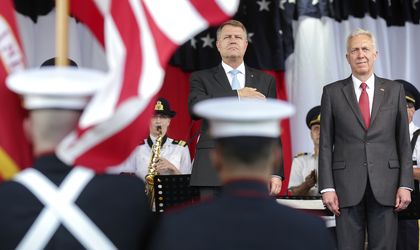 President Klaus Iohannis, PM Mihai Tudose, the head of anti-graft agency DNA, Laura Codruta Kovesi, alongside Romanian ministers and MPs have been among the participants at the special reception organized in Bucharest to mark the American Independence Day.
President Iohannis spoke about the strategic partnership between the US and Romania, which has been operational for two decades.
"In these 20 years Romania has learned, also with the help of the US, what the power of the democracy means, the respect for the judiciary, the rule of law and the transparency," said Iohannis. He added that Romania has to be governed in a responsible and predictable manner, with a focus on the interests of citizens.
Meanwhile, the US ambassador to Romania Hans Klemm explained that he also looks to enhance the economic ties between the two countries.
"This Autumn we will host the biggest economic mission to ever reach Romania and we will encourage investments in our countries, in both directions," said Klemm. He added that he also wants to work PM Tudose and MPs on upgrading the strategic partnership.
Photos provided by the US Embassy in Romania. All photos by Octav Gane/Inquam