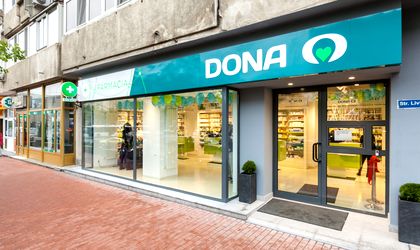 Shareholders of pharmacy chain DONA have announced their expansion plans via partnerships with entrepreneurs by means of franchise agreements. The move marks a change of strategy for the pharmacy chain, which expects to conclude 20 franchise agreements by the end of the year.
DONA offers partners access to a vertically integrated distribution system with activities in acquisitions, wholesale distribution, marketing and other services. The franchising system is designed for healthcare professionals and entrepreneurs. A total of four pharmacies, two in Bucharest's Sector 1 and the other in Alexandria and Rosiorii de Vede are to be reopened recently, following a rebranding process. Other four are currently implementing the franchise agreements.
"The DONA pharmacy means professionalism, seriousness, preoccupation for the quality of services, care and empathy towards patients. It is an asset, evaluated at RON 40 million, that we entrust to our partners, provided that they fully respect the values that define and differentiate it," Eugen Banciu, DONA Group president said in a press release.
The franchise agreement is designed for pharmacy license owners with experience in pharma retail and offers an initial financial investment between EUR 20,000 and EUR 50,000.
In the first six months of the year the DONA Group recorded a turnover of LEI 471 million, up by 11.5 percent compared to the previous quarter. For 2016, the pharma chain aims to record a turnover in excess of RON one billion and to increase the number of clients to over 2.5 million monthly.
By the end of the year, the pharma chain is to open a 7,000 sq. meters deposit located in Chitila, built following an EUR 4 million investment.
There are approximately 300 pharmacies operating under the DONA brand, employing around 2,500 pharmacists, health care specialists and entrepreneurs.
Georgeta Gheorghe