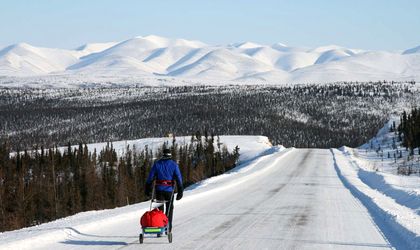 Petrosani-born librarian Avram Iancu will attend the ultramarathon held in Canada, around the Arctic Circle, Arctic Ultra 6633, this year. The decision has been taken, the tax has been paid, and the trainings are in development, according to aimx.ro.
He will attend the tenth edition of the Arctic Ultra 6633.
Iancu is the first person in the world that swam across the Danube's length (2,860 kilometers) in 2017, without protection suit, achieving this performance in 89 days, for which he was nominated for the title "Man of the Year".
He also became the first Romanian to cross the English Channel in August 2016. He managed it after 18 hours of swimming, at his fourth attempt. Iancu crossed the 62 kilometers wearing only speedos and a cap. As per the requirements of the Channel Swimming Association (CSA), which requires swimmers to be equipped with a sleeveless and legless swim costume not offering thermal protection.
"I feel that I have to be at Arctic Ultra 6633 and bring my contribution to the promotion of Romania. I'm going there humble. I don't know if something it's fascinating me. Everything gives me a feeling of respect, a deep respect. What attracts me is that everything is developing in extreme conditions, that it's the tenth edition and that this year Romanians celebrate 100 years since the Great Union," said Iancu for aimx.ro.
He began his training for Arctic Ultra 6633 on November 2017. He has trained in Parang mountains at over 2,000 meters of altitude.
"It's a new environment to me. A competition that I know everything about, but I might know nothing. It's an extreme competition. The 89 days spent on the Danube are a moral boost. I am confident, but at the same time, I take this race seriously."
This year 3 Romanians will attend the competition, the same number as in 2016. Romanian Tibi Useriu won the contest twice in row .
The three Romanians who have attended until now the Arctic Ultra 6633 are Tibi Useriu, Vlad Tanase and Andrei Rosu.