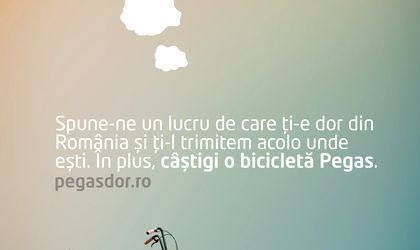 Bike maker Pegas, Publicis Romania and Nurun have launched the campaign #PegasDor, bringing Romanians abroad what they miss from home.
The same people that brought back the childhood bicycle Pegas, bring to all Romanians abroad that something they crave for when they miss "home". Whether it is a childhood toy, a photo album or a favorite food cooked by their mother, Romanians living abroad have the opportunity to reconnect with what they miss from home, together with a Pegas bicycle.
 "I am happy and proud to launch what is in fact the first global campaign for Pegas, playing on such a truthful and meaningful insight – nostalgia – so deeply embedded in the DNA of this brand. The campaign will be rolled out locally and across Romanian communities all over the world via their FB community groups. We will help Romanians connect with friends and family by bringing them, no matter where they are, a piece of DOR on a Pegas bike," said Jorg Riommi, chief creative director – Publicis Romania.
Pegas makes the perfect translation for this word "dor", which has no equivalent in any other language, with a simple gesture full of meaning.
 "Pegas Romania is one of the most devoted brands to its country and our intention is to get closer to the Romanian families that live abroad. We want to bring them joy through our initiative and to create for them a community united by this unique word – "dor" – an important trademark for Romania and one of the most beautiful feelings that one can have," also added Andrei Botescu, founder – Pegas Workshops.
All Romanians abroad can join the #PegasDor campaign in four simple steps: film themselves for a maximum of 1 minute in front of an emblematic edifice/building belonging to the city they currently live in, to introduce themselves, and say what they miss the most about Romania. The last step will be to upload their maximum 60 seconds long video on the campaign's website at www.pegasdor.ro or on Instagram with the hashtag #PegasDor.
The campaign will run from 12 July until 15 August. After this date, three winners will be selected and given the chance to reconnect with an item they have been missing from their homeland as well as a Pegas bicycle.
From Publicis Romania:   Mihai Costache – Copywriter, Adrian Iota – Art Director, Elis Iaia – Digital Planning Director, Dan Frinculescu – Group Creative Director, Jorg Riommi – Chief Creative Officer, Raluca Iacob – Head of Strategy,  Alexandra Murray – Client Service Director, Raluca Cojocaru, Catalina Popescu – Jr. PR Officer, Andreea Grigorean – PR Officer.
From Nurun: Mihai Pocorschi, Constantin Bunica – Web Developer, Marius Farcasanu – Digital Art Director, Alina Neagu – Account Manager, Calin Buzea – Managing Director.
 From Pegas: Andrei Botescu – General Manager, Ciprian Frunzeanu – Design Manager, Alexandru Manda – PR & Brand Officer, Alin Andrei – Marketing Manager.
Romanita Oprea