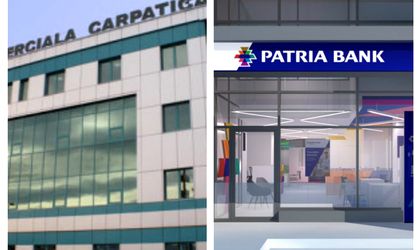 Former commercial bank Carpatica, Patria Bank, increased its social capital by 71 percent due to the merger with Carpatica to RON 376.2 million, but it will reduce its capital close to the initial level, according to a statement submitted to the Bucharest Stock Exchange (BVB).
Also on June 26, the bank announced the General Extraordinary Meeting of Shareholders (AGEA) for July 28, where it's requested the approval for the reduction of social capital by RON 149 million, to RON 227.1 million.
The reduction is made through the annulling of 1.491 million shares, proportional with the stake of every shareholder at the bank's social capital.
The bank registered a loss by RON 9.7 million in the first quarter of the year, by 27 percent higher than in the last semester of 2016, due to the diminishment of activity caused by the merger preparation.
The overall assets decreased in the first quarter by 4 percent compared with December 31 2016 to RON 2.49 billion, due to the reduction of deposits from clients and the closure of 18 agencies in December 2016.