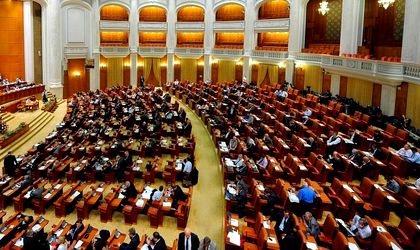 The passing to pay draft bill, which enables the discharge of mortgage-backed debts through transfer of the property to the creditor, was voted by MPs Wednesday and will be submitted to president Klaus Iohannis for promulgation.
This was the second time this initiative was voted, after the first version of the draft bill was rejected by Romania's president Klaus Iohannis.
The bill got passed the Chamber of Deputies with 207 MPs voting for it, and one against it. One deputy has abstained.
The bill will apply for mortgage-loans of up to EUR 250,000, and even in cases where the foreclosure procedure of a debtor has already been completed.
According the approved version, the bill will apply for consumers who took out loans to buy, build, extend, modernize or revamp a home, or for loans that are guaranteed with a residential building.
Bankers have warned that the people looking to get mortgage loans might need to make a bigger down payment if the draft bill is enforced.
"We are a step closer to the enactment of the debt discharge bill and in our view risks increased by 10ppt to 40% for market unfriendly legislation with quantifiable retroactive consequences. It is certainly hard to estimate the negative impact for the future of the Romanian economy, including risk of rating downgrade. In the negative scenario, we see RON sharply weakening in the short-term and remaining vulnerable over the medium-term as the credit risk premium for the country is likely to permanently increase, leading to higher funding costs and weaker economic growth outlook. We still expect economic logic to prevail and institutions less sensitive to this year's elections such as the technocrat government or the president to refer the bill to the Constitutional Court before it is enacted and that the final version will limit the moral hazard," said analysts at ING Bank.
Central bank governor Mugur Isarescu has already warned that the legal initiatives in the financial sector, which bear the retroactivity principle, pose a "severe systemic risk".
Daniel Anghel, who became coordinator of the Coalition for Romania's Development starting this year, told BR in an interview that the Romania could be fined by the European Commission, if this bill doesn't transpose the EU legislation.
"In case the law is not respecting a EU Directive that has to be transposed into Romanian local legislation in the spirit and the sense of the Directive, then we might have an infringement", said Anghel. He was referring to the fact that this bill would apply not only for new contracts, but also for ongoing ones.
The Coalition comprises the largest private sector associations in the country.
Credit rating agency Fitch said this bill could disrupt the Romanian banking sector
The new bill will not apply for loans taken out under the Prima Casa scheme.
Ovidiu Posirca