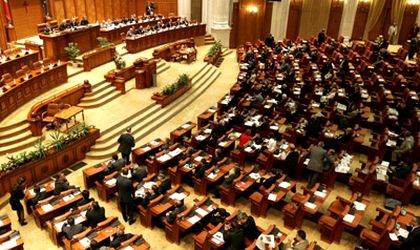 The Romanian Parliament decided on Friday to suspend President Traian Basescu with 256 votes in favor and 114 against, said Georgian Pop, secretary of the Chamber of Deputies, quoted by Agerpres newswire.
The president attended the parliament debates and tried to prove that he didn't breach the constitution. This was the main reason for which the political coalition USL began the suspension procedure. In fact, the Constitutional Court ruled out on Friday afternoon that President Basescu didn't violate the constitution.
"My opinion is that the main objective you have is to control the justice system. In addition, you refuse to enforce the results of the 2009 referendum through which the constitution should have been amended to have 300 MPs and a single house in Parliament, and you believe the creation of this violent revolution from a legal point of view will cover the deficit of responsibility in form of the people you claim to represent through today's action," said the president in Parliament.
"The great error you have committed and political and institutional sin (…) against the citizens of this country is that you left it without a president," said Crin Antonescu, president of the Senate and of the liberal party PNL. Antonescu added the suspension project is perfectly democratic and constitutional.
The referendum for the impeachment of President Basescu will be organized on July 29. Crin Antonescu becomes interim president until then.
Ovidiu Posirca