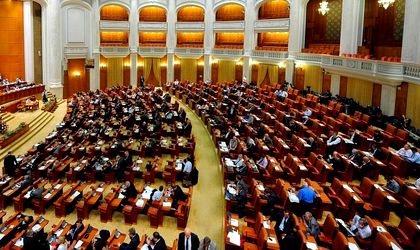 Parliamentary commissions have approved several wage hikes for education and healthcare personnel after wages for these public employees were up by 30 percent on average last year, according to Mediafax and ZF. This happens despite the fact that a 'fiscal-budgetary responsibility law' passed in 2010 provides that "salary expenses cannot be hiked and nor can any measures that lead to an increase of salary expenses be passed 180 days prior to elections".
These most recent public wage increases will cost the budget RON 4,8 billion (approximately EUR 1.066 billion) and could push Romania into an excessive budget deficit, warned Minster of Finance Anca Dragu on Tuesday.
Economists, however, fear the impact could be higher and it will put additional pressure on a 2017 budget whose expenses have already been pushed to the limit, says Mediafax.
"The impact will major next year. We are repeating the same mistakes of 2008 when a 5.5 percent budgetary deficit correlated with an economic growth of over 8 percent was the expression of a total lack of responsibility," commented Ionut Dumitru, the head of the Fiscal Council, according to Mediafax.
According to Aurelian Dochia, another local economist cited by the news agency, there are obvious risks related to the recent wage hikes despite the fact that Romania doesn't find itself in the same situation as in 2008-2009.  "There will many questions marks in 2017. It is unlikely that we will see the economy grow by 5 percent as in 2016 and there are all the budgetary pressures resulting from this year. It is possible that the favorable context we see now will change as a result of the budget deficit rising above the 3 percent limit. Interest rates could change and the country rating could be questioned," he concluded.
Simona Bazavan