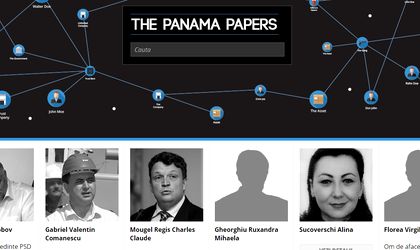 The names of dozens of Romanian businesspersons were made public by journalists, as part of the massive leak of documents dubbed as Panama Papers.
According to Rise Project, there are over 60 Romanians that got offshore firms from Mossack Fonseca law firm.
Among those named by the journalists, there is lawyer Robert Rosu and businessman Gabriel Comanescu, the founder of Grup Servicii Petroliere, the company providing services for the oil and gas industry.
Among the 60 people there is also Ionut Costea, the former vice-president of the European Bank for Reconstruction and Development. He was also the president of the state-owned lender Eximbank.
The name of businessman Vivian Nicolae Diaconescu is also mentioned in the list. He was the head of A&D Pharma and manager of pharma group Sensiblu.
The journalists have also included oil major OMV Petrom in this list. According to Rise Project, the Austrian company manages a key investment in Kazakhstan through an offshore firm.
OMV Petrom is the largest oil and gas company in Romania.
"Of course, it is not illegal to create companies in opaque jurisdictions such as Belize, British Virgin Islands, Gibraltar, Samoa or Isle of Man, and this is the reasons why the debate regarding #PanamaPapers was centered more on ethics than on the amount of money that was hidden through Mossack Fonseca," wrote the journalists.
Romania's tax authority ANAF had announced that a special group was created inside the institution to investigate the documents leaked from Mossack Fonseca. The ANAF is looking for Romanian individuals and companies that have used offshore accounts.
Ovidiu Posirca