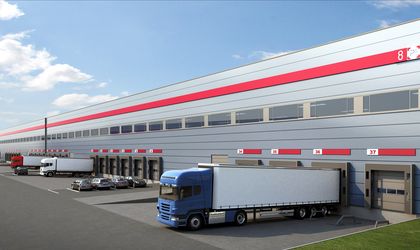 ---
Pan-European logistics property investor-developer P3 Logistic Parks has signed lease contracts with Agricover, Banafruit Distribution and Interbrands on a total of over 11,000 sqm at P3 Bucharest Park.
"In a growing market, it's great to see customers chose P3 Bucharest park to develop their businesses. P3's park offers not just warehouse space but also a real community, in which we hope they will flourish. We always try to work in partnership with our clients and give them the opportunity to grow their businesses, by being flexible, customer-oriented and providing environmentally sustainable warehouses that meet the highest international standards", says Emilia Bocan, senior Leasing and Development manager at P3 in Romania.
Agricover is to be the new occupier of Warehouse 9 at P3 Bucharest park, where it has leased 4,500 sqm in which it will store seeds and pesticides for agricultural production. Agricover Holding is one of the main players in the Romanian agribusiness, having been established over 18 years ago. Agricover serves over 4,700 farm customers which work 1.9 million hectares of arable land across the country.
Another new client at the park is Bananafruit Distribution, a company which imports, exports and distributes over 50 types of fresh fruits and vegetables all over the world. Bananafruit Distribution has leased 3,000 sqm.
"The new warehouse and our collaboration with P3 means that Bananafruit will be able to manage its logistics and distribution more efficiently, following our products from arrival from our suppliers through to the delivery to our customers. We are really pleased with this new partnership", says Florentin Voicu, Banafruit Distribution.
Interbrands was one of the first customers to lease space at the park over 10 years ago. It has now signed a lease extension on a 3,500 sqm storage area, which will be used to store and handle pharmaceuticals through its corporate affiliate Europharm Distribution.  As a result, Interbrands now occupies a total of 20,000 sqm at P3 Bucharest park.
Interbrands Marketing & Distribution is one of the leading consumer goods distribution and marketing companies in Romania, with around 8 percent of all Romanian consumer goods passing through its logistic system each year. The company has 27,000 facilities throughout the country, which are supplied weekly, through a national network of 3 logistics centres, multiple cross-docking locations, and a fleet of 1,200 cars.