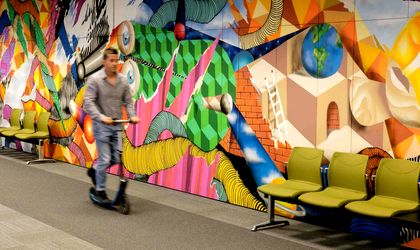 Individual wellbeing, employee engagement and a culture of wellbeing are linked to an organization's performance, whether it is measured through productivity, staff retention or even financial outcomes. With companies fighting a fierce battle over highly educated and trained personnel, the wellbeing of employees and organizations as a whole has become one of the most important KPIs a company should follow.
 Anda Sebesi
The science behind emotions
The field has evolved so far at international level that experts in psychology can scientifically demonstrate a direct correlation between wellbeing and its positive impact on work performance. "Wellbeing is the precise acceptance that a happy employee is more efficient than an unhappy one," says Dan Petre, business developer at D&D Research. He adds that this concept is important because it is linked to positive results for both individuals and organizations, such as better performance, engagement and lower levels of conflict. "The concrete parts of wellbeing are linked to the way emotions interact with behaviors at work, usually recognized as engagement, burnout, satisfaction at work and workaholism," adds Petre.
According to international studies, when we experience a positive mood/feelings, our brain is on average 31 percent more productive than when we are in a negative, neutral or stressed mood. Researchers also found that salespeople perform 37 percent better while doctors are 19 percent quicker to make a correct diagnosis when they enjoy psychological and physical wellbeing. In addition, according to Fortune, the company you work for can improve your personal/family life (supporting you in your role as a parent) and health (encouraging you to give up smoking or maintain a healthy lifestyle).
Individual wellbeing's link to organizational performance
Business Review has been covering Romania's most active industries and top performing businesses ever since its launch in 1998. In recent years, both at our business conferences and during interviews, we have noticed that whenever we discuss a business's evolution or company performance, the story leads to bosses saying: "We have invested in people", "We are growing and heavily recruiting", "Our biggest challenge is retaining talent", "Our main priority is to increase productivity and retention", "We have built a powerful employer brand".
What these stories have in common, besides highlighting an increase in attention to human capital, whether it be from local SMEs or large multinationals, is how complicated the discussion gets when we get to questions about results, return on investment and measurement. The answers are tougher to ascertain because the indicators are very difficult to measure. And what are the best indicators to follow? Is staff turnover and retention a correct reflection of how well a company is doing? Is the engagement indicator enough? Does being voted a "best company to work for" really capture the complexity of organizational wellbeing?
In this context, Business Review, along with D&D Research and the Faculty of Psychology, has launched the Organizational Wellbeing Study – the first research project looking to measure Organizational Wellbeing within companies active on the Romanian market, with a unified scientific instrument that is deeply rooted in today's business culture and context.
"Our connection with the first survey that deals with the health of Romanian companies and their employees was natural, given that we support all initiatives with a positive impact on the future of healthcare in Romania. Regina Maria employees willingly participated in this survey, which is included in a longer series of internal surveys carried out to measure certain activity parameters. We have joined this endeavor as partners and participants, particularly in view of the fact that many of our resources have in the past few years been concentrated in the prevention area and public education regarding this key pillar of health. The data provided by this survey, together with our internal data, will help us become more competitive: by knowing certain behaviors in depth, we will be able to adapt our range of services to positively respond to the needs of every client," says Fady Chreih, CEO of Regina Maria. In addition, representatives of Autonom Rent-a Car say that they wanted to get involved in the OWB study to see how their employees feel and "take their pulse". "Any such activity helps us to improve what we do," they add.
"The OWB Index is not just the first that uses a dedicated scientific tool, but it also measures topics of great interest within corporations, like burnout and workaholism. Through our partnership with D&D Research, we will be able to deliver, free of charge, results that will be extremely useful in the development of effective and sustainable wellbeing policies for the companies that participate in the study," says Adina Cretu, marketing manager at Business Review.
Asked what the concept of wellbeing means for Autonom Rent-a Car, the representatives of the company say that it includes aspects like salaries, medical insurance, time for sport, healthy food and the creation of well-rounded teams based on respect and common sense. "For us, wellbeing means that our employees see their job as a place where they work with friends on activities that matter and help them develop," they say. They add that the company periodically evaluates employee engagement and has at least two one-to-one meetings every year with each employee where they talk about their motivation and activities. "We also set together his or her future professional path," adds the representatives of Autonom Rent-a Car.
Organizational Wellbeing Aspects
For this issue's cover story, BR dived deep into four of the dimensions and socio-demographic descriptors that impact organizational wellbeing, to illustrate their contribution towards the Organizational Wellbeing Index and what that means for participating companies and the overall business environment: work-life conflict or spillover; development opportunities; healthy lifestyle and the workplace.
Read also: OWB Study | How are companies in Romania harnessing the wellbeing of employees in offices
OWB Study | Work-life balance in Romania | What's the role of companies and employees?