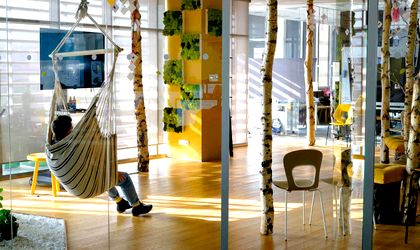 Companies are increasingly investing in offices that foster workplace wellbeing as a means of boosting their employees' job satisfaction and ultimately their productivity.
Simona Bazavan
The local office scene is changing and employees are bringing about the shift, tenants and developers agree. In the competition to attract and secure the best talent, companies are turning their offices into a differentiator and selling point. Boosting productivity is still at the heart of any decision when choosing or designing an office, but firms have increasingly come to understand that their employees' workplace wellbeing is key to ensuring it.
However, securing workplace wellbeing has become harder of late given local employees' change of mentality. "While a few years back they were motivated by financial aspects alone, now they are considering new elements as well. People place greater importance on the work environment and are more concerned about quality of life," Gabriel Balaban MRICS, LEED green associate with CBRE, told BR. All this has been good news for employees, especially those of large multinationals. Working in unconventional spaces meant to boost creativity, unwinding in games rooms, music rooms or libraries or getting massages at the office are perks that more local employees now get to enjoy during office hours.
As expected, IT and telecom companies are at the forefront of this trend. Software company Betfair Development Romania in Cluj-Napoca recently won three prizes, including the grand prize in the first edition of The Most Office competition organized by CBRE in partnership with Skanska. Having a well-rounded concept for its office of over 5,500 sqm was one of the reasons it won, thinks head of finance and accounting, and local manager, Bogdan Tomsa. The office is designed as a city within a city, with areas replicating landmarks such as a garden, library, theater, cinema and even "grandma's country house". Coming up with the concept was a process that involved the employees, whose wish list for the new office included a low-light relaxation and working area, standing desks, a library and an area to store and share sports equipment. The office is part of the package the company uses to attract new workers, so the area where candidates are interviewed gives them a glimpse of the whole office and its facilities.
Some EUR 2 million was invested in the headquarters of Betfair Romania in The Office in Cluj-Napoca, said Tomsa. The 550 employees have some 650 work stations to choose from and they all work in an open space which the company's manager says helps promote transparency and openness.
Vodafone Romania opted for the same in its new headquarters in the Globalworth Tower in Bucharest. The objective was to create a digital office that nurtures communication, collaboration and creative interactivity, Florin Petrescu, HR director of Vodafone Romania, told BR.
Hot-desking – the practice of multiple employees using a single physical workstation at different times – was an important part of the interactive and collaborative work environment Vodafone has created in its new headquarters, he explained. "Employees are constantly moving, so Vodafone's 'digital' office concept features very few landlines and desktop computers, printers or other traditional office equipment. Laptops and mobile connections make it possible to base workers in any area of the office. This fosters more transparency, open and direct collaboration and greater productivity," he told BR.
Catering to the new demand
All this means developers are upgrading their offer to meet tenants' new demands. "Wellbeing has already become a key element for developers when they are working on a new project. Therefore they are factoring in aspects such as air quality, thermal comfort, lighting quality, acoustics and noise, interior design and various facilities from as early as the design stage," Andrei Voica, head of project management with the office advisory of Colliers International, told BR.
Nowadays, it is no longer about the cost per sqm when leasing a new office space, but rather about the cost per employee and how that particular space can positively influence staff wellbeing and results, confirms Sorin Visoianu, country manager of operations Romania at Immofinanz. "The increase in supply and demand is already raising the quality standards of new properties and the focus on providing comfort and a wide range of services to corporate employees is gaining ground. For example, our own most recent project, Metroffice, has been designed to incorporate a wide range of added services and tailored functions, in order to provide the people who work there with benefits that meet their specific needs and comfort requirements," he told BR.
If over the past few years office innovation has been mostly approached by companies in terms of interior design advancements and less in terms of complex facilities, buildings efficiency or long-term performance, this is now changing, Antoniu Panait, managing director of Vastint Romania, told BR. Some of the highpoints Vastint integrated into its Timpuri Noi Square and Business Garden Bucharest office projects include a more central, easily accessible location by various means of public transport including by bike, complete with parking, showers and lockers, real outdoor green areas, a more natural indoor environment and easy access to service areas.
For Skanska Property Romania, wellbeing goes hand in hand with green technologies. "Most often tenants are interested in the green solutions implemented and the building's certifications. LEED and BREEAM are among the most popular and a building that has one of these certifications is eco-friendly because it is built out of sustainable materials and therefore ensures a healthy environment," Aurelia Luca, country director of Skanska Property Romania, told BR.
But how do employees themselves feel about all these features that companies and developers brand as wellbeing ingredients? The organizational Wellbeing Study put together by BR and D&D Research aims to shed some light on this. It will do so by looking into how elements such as the office commute (means and duration), extra facilities such as relaxation rooms or bike parking, an open layout or having a mobile workstation influence measured wellbeing dimensions such as work and family time balance, burnout, perceived stress, engagement, support from colleagues and supervisors, and commitment to the organization.
Read also: OWB Study | How to measure the wellbeing of employees in Romania | The role of companies
OWB Study | Work-life balance in Romania | What's the role of companies and employees?