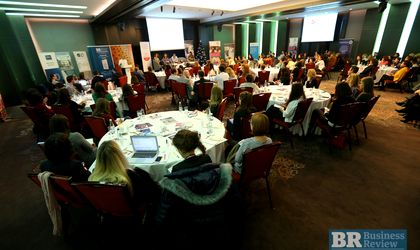 Dan Petre, business developer, D&D Research, which is gathering data for the Organizational WellBeing Index in partnership with Business Review magazine, said that up to now the study has attracted 2,537 respondents from 20 companies.
"This is a unique project which will represent the first study on organizational wellbeing done in Romania," said Petre during the Healthiest Companies – preliminary results of OWB Study event that took place on Wednesday.
The average survey completion duration is of 14 minutes.
"There are results for 14 dimensions," added Petre.
"People consider that the work they do has significance," said Petre on the findings of the study up to now.
For Millennials, the work pressure is lower compared to Generation x. The stress is a little bit bigger for Millennials, said Petre on the other preliminary findings of the OWB study.
He called on companies to participate at this study, after presenting some of the initial findings of the research. He said that in order to have relevant data, at least half of the employees of a company need to fill the survey.
Insights from companies that participated in the OWB Study
Mihail Pricop, training manager at Autonom Rent-a-Car, one of the companies that took part in the study, said that regarding the significance of work, people know what they are working for, not just to get a wage. He added that 90 employees submitted the survey for this study.
Ramona Salagean, human resources lead Romania at Accenture, added that "the new elements brought by this survey are related strictly to the individual, such as the dimension of perceived stress which was not that well measured compared to what we were doing up to now internally."
The work pressure is perceived more in the outsourcing division compared to the technology one, said Salagean about some of the findings of the research in the case of Accenture Romania.
Corina Ghiatau, organizational development manager at Orange Romania, explained that the telecom firm deploys every three years a massive internal research initiative on the stress levels of the employees.
Ovidiu Posirca