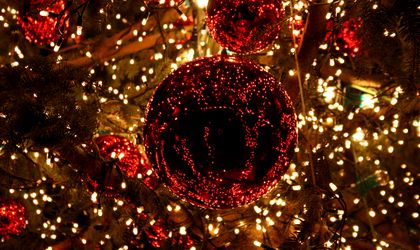 Over 84 percent of Romanians associate Christmas with lighting installations and Christmas tree and 78 percent listen to music specific for this period, according to a study made by ELBI Electric & Lighting, before launching in Romania the newest range of festive illumination ERSTE.
According to the survey, 72 percent of Romanians choose to spend their free time with the dear ones, 15 percent make plans for parties and winter holidays during this period of time, while 13 percent of the respondents prefer to rest.
People who live in cities associate winter holidays with the Christmas tree (93 percent) and the time spent with the dear ones (73 percent) and the people from rural areas prefer the Christmas tree and lighting installations in the same proportion (89 percent).
In top of preferences according to the age, the persons over 65 years prefer to stay with the dear ones (93 percent), to listen to music specific to winter holidays (100 percent) and the Christmas tree (94 percent). Young people, with ages between 25-34 years, prefer to decorate the Christmas tree (94 percent), the lighting installations (85 percent) and the time spend with the dear ones (72 percent).
There is high gap between women and men regarding the preferences for this period. Women prefer the Christmas tree (92 percent) and the winter music (79 percent, while men prefer light installations and the Christmas tree (89 percent).
"The results of the study regarding the Romanians preferences during the winter holidays didn't surprise us, although we didn't expect for the festive lights to be in top 3. The big challenge was to launch the new products in time, to be available on the market during the useful interval for shoppers, to offer them the quality and forms and lights diversity for the installations. I can say that the stock has been sold rapidly and the next year we'll try to bring a higher range," said Dan Ovedenie, acquisitions director of ELBI Electric & Lighting.
The study was made during during September 18- October 19 on a sample of 670 persons, with ages between 18-65 years old, from all regions of Romania. Some questions had multiple answers.