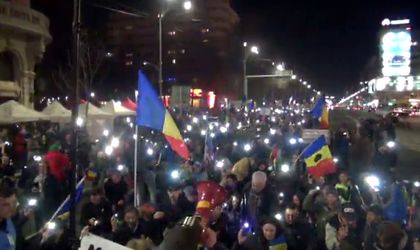 Over 5,000 protesters marched on Sunday in Bucharest and in other major cities in Romania, in support of the country's anti graft body, the National Anticorruption Directorate (DNA).
In the capital, protesters met in front of the Government building, in Victoria Square and marched towards the Parliament building. On the way, protesters made a halt in front of the DNA headquarters, where they applauded and chanted "DNA, go and take them," and "DNA, do not forget, we are on your side."
People were notified about the protest via Facebook events, under the slogan "Support DNA, we want the de-politicisation of institution." While the crowd was marching, traffic was halted on the Lascar Catargiu, Magheru and Nicolae Balcescu boulevards.
The protest ended around 11:00 pm in Victoria Square, where the crowd sang the national anthem 'Desteapta-te romane."
Elsewhere in Romania, around 500 people protested in Cluj-Napoca, Brasov, Galati, Sibiu and Oradea against the Grindeanu government and in support of the DNA.
Country-wide protests were sparked in January, when the Grindeanu Government passed emergency ordinance 13/2017 which partially decriminalized abuse of office. Ever since, every weekend people gathered to protest in Bucharest and across large cities in Romania, with the biggest attracting over 250,000 people.