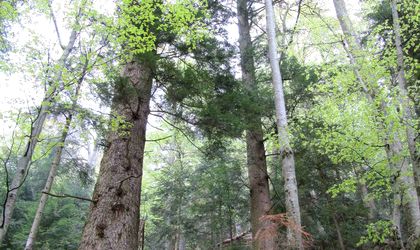 Over 20,000 ha virgin and quasi-virgin forests were identified by WWF-Romania in the last four years, using their own resources. The NGO included the data in a special catalogue. After the campaign from 2011, WWF-Romania obtained in 2012 the approval of the necessary legislation for protection of these forests.
The catalogue sets an immediate protection through an identification system and evidence of virgin forests that will allow the involvement of all those interested, including forests administrators and exploitation firms.
Starting with May 24, and continuing for a month, The Ministry of Environment, Water and Forests put into public debate the Project of minister order regarding the setting up of the Catalog. Meanwhile, the citizens and interested institutions can transmit suggestions regarding its form.
The proposals will be taken in consideration during the last debate, under the coordination of the public authorities, which will take place on June 23, where the final form will be adopted.
"The virgin and quasi-virgin forests are forest ecosystems with primary structures, which were formed and developed through a natural evolution of thousands of years and that were not influenced in a significant way under the structure, station and ecosystem processes report," says Radu Vlad, Manager program woods WWF-Romania.
WWF-Romania encourages all the interested parties to contribute to the debate, so that at the end of it to have a legislation as efficient as possible and applicable in the last virgin forests of Europe.
Georgiana Bendre