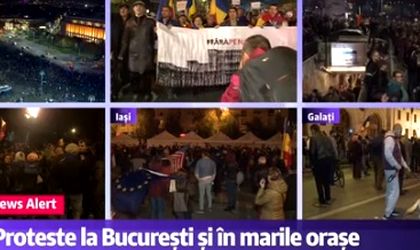 Some 10,000 people joined a protest on Sunday evening in Bucharest to vent their anger against changes to the judiciary that have been announced by the center left coalition PSD-ALDE. The protesters called for the resignation of the government led by Mihai Tudose chanting "We don't want a nation of thieves" and "Justice, not corruption". In the Romanian capital, the protesters went on a march from Victoriei Square to the building housing the Parliament.
They were joined by several thousand people that attended protests in some of the largest Romanian cities such as Cluj-Napoca, Iasi, Sibiu and Brasov. Protests were also announced in the Diaspora.
According to updated media estimates, some 35,000 people protested across Romania, out of which 20,000 in Bucharest alone.
People organized themselves through social media, accusing the current government of attempting to derail Romania's anti-corruption efforts.
The Platform Romania 100, the NGO founded by ex-PM Dacian Ciolos, and the liberal party PNL said they supported the street protests.
The draft bill that includes changes to the judicial systems was backed by a group of MPs, said on Tuesday the minister of justice, Tudorel Toader. The minister suggested that the approval in Parliament will be faster, adding that if the government had promoted it, the draft bill would have needed the feedback from the Venice Commission. Toader said the approval of the Venice Commission could arrive in December the earliest or even next March.
The minister went on to say that certain provisions in the draft bill could be amended. For instance, in the latest version of the draft bill, the president of Romania is still included in the procedure for the appointment of chief prosecutors, but will be excluded from their firing procedure.
The draft bill also mentions the creation of a new body tasked with investigating potential criminal activities of judges and prosecutors within the Prosecutor's Office at the High Court.
The Judiciary Inspection is set to become an autonomous institution overseen by a council comprising representatives from the National Magistrates Council (CSM), the High Court, the General Prosecutor's Office and officials from associations of magistrates and civil society.
Meanwhile, president Klaus Iohannis commented that some changes included the draft bill were necessary, but it is a long "way from amending the legislation to chopping it, which is happening right now, and we shouldn't go on this road."
Close to a million people protested in Romania for one month starting late February after the government approved an ordinance that would partially decriminalize the abuse on office. The ordinance was later dismantled in Parliament on the back of calls coming from European and American officials alongside the massive street protests.
Photo source: Screen grab Digi24