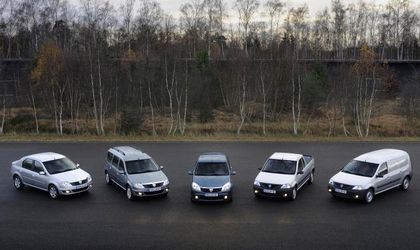 Over 1,000 staff at the Dacia Factory in Mioveni have participated in a protest against transport conditions, after several buses involved in commuting were involved in road accidents in the past few months.
The Dacia employees who finished the night shift refused to step on the buses that were waiting for them and gathered instead on the platform in front of the factory. They criticized the condition of the vehicles used for commuting as well as the skills of the drivers.
"You can see the lack of vocational education in their case. Are there schools for drivers? We pick them up from the street, we give them the license (…) and we endanger the lives of 40 people in the hands of a kid who wants something to do, but is not qualified. He does not know he is not allowed to step in a car that does not have a safety system," deputy head of the Dacia Cars Union, Ion Iordache, said.
The protest was determined by two traffic accidents that involved buses operated by the companies providing commuting services to Dacia employees.
On August 2, two buses carrying Dacia factory staff collided near Vulturesti, leaving 13 injured. The latest such accident took place on November 25, in Pitesti, when two buses carrying over 80 workers collided, injuring 17.
In a December 2 statement, Dacia representatives said an investigation was ongoing. 'Automobile Dacia collaborates with three independent operators for the transport of its employees. (…) The three companies and their means of transport are authorized and certified by the competent authorities."
"On Tuesday, November 29, an extraordinary sitting of the Security and Health Work Committee (CCSM) took place, during which President General-Director of Automobile Dacia and representatives of the Dacia Automobile Union (SAD) set together measures that were then communicated to employees. They include the request that the Romanian Road Authority (ARR) and the Romanian Auto Registry (RAR) check again, as soon as possible, whether the societies ensuring the transport of employees are abiding by the legal provisions."
"The President-Director General was on site to check the state of the buses," the statement reads.
Georgeta Gheorghe