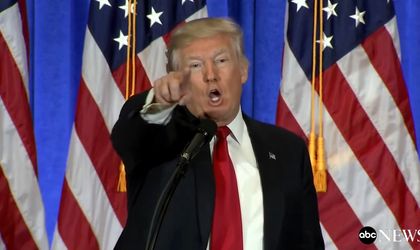 There can be nothing more undignified than a sore loser in the political arena. Nothing better encapsulates this lack of self- respect than the continuing howls of anguish emanating from the anti-Trump brigade who cannot grasp that he won fair and square!
By Michael Barclay
But what makes this lot so insidious is the fact that their opposition is based upon pure hate for the man.  So a casual inspection of his detractor's opinions reveal their criticisms are as empty of substance as Kim Jong UN's jockstrap.
They say he is sexist. Nonsense, his peccadillos are simply the upholding of a fine old American tradition of appointing presidents who are moral bankrupts; from Jefferson and Jackson who happily screwed their way through their slave rows, to FD Roosevelt with Lucy Miller, off to Eisenhower who promoted his driver Kay Summersby to  Mistress In Chief,  away to the JFK-the most sexually perverted politician in American history,  then Lyndon Johnson with Alice Glass, and don't forget Clinton who left a nasty taste in Monica's mouth.
They claim he is homophobic. Users of that ludicrous word should invest in an education, for if you go back to its Latin and Greek roots, it literally translates as 'fear of man'. I do not consider Trump, myself or any other straight guy has an inherent 'fear of man' by virtue of us refusing to sodomise our fellow man.
A racist is he? Not a bit. He is simply a patriot who wants to protect his country from illegal immigrants who (although not all are guilty) contain a hardcore of rapists, murderers, and gangsters. Does that not sound like contemporary Europe, reeling under the weight of foreign criminal and terrorist trash tearing apart our capital cities?
As to his future presidency, the PC driven 'establishment' is a huge complacent cat stretched out on top of a warm radiator under a window, whilst blocking out the sunlight of reason and change. He will control his party, as he is a hard deal maker/breaker who has torn up the cozy political rulebook.

His profound lack of good looks ensures he will be lampooned by press cartoonists at every opportunity thereby giving him ample exposure to get his message across. But his most welcome and overdue 'in-your-face' style of governance will ensure that he will never be considered a true Statesman. But who cares?
His loutish style would make him look absurd at the gracious, white-tie balls in the White House. Trump has balls enough, and needs none of that pomp.  His 'America first' policy will, really will write him up in the eyes of Americans as one of their greatest leaders, albeit at the expense of the USA's most traditional allies.
It's time for the Allies to tough up and live with it.
The opinions stated are the writer's own and do not reflect the views of Business Review magazine.
mab.media@dnt.ro