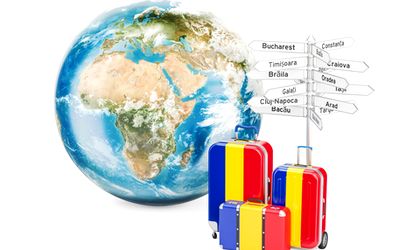 Only 24 percent of the Romanians, aged 15 or over, made at least one tourism trip for personal purposes in 2016, the lowest level in the EU, according to an Eurostat report.
The Romanian figure represent just a third from EU number, of 62 percent of population who took at least one tourism trip. The report says that nearly half, 48 percent, of the Europeans who did not make any trip reported that this was, at least partially, due to financial reasons.
For the Romanians, financial reasons were mentioned as a cause for not taking a trip by 55.3 percent of those who stayed home, figures exceeded by Greeks (64.4 percent no trip, 74.6 percent of them because of financial reasons), Portuguese (74.4 percent no trip, 66.4 percent financial reason) and Croatian (56 percent no trip, 61.6 percent for financial reasons).
Other reasons mentioned for not taking a trip were work or study commitments, 13.1 percent for Romanians, 15.8 percent EU medium, health issues, 12,8 percent for Romanians, 20 percent EU medium, while another 4.9 percent of Romanians said they didn't want to travel, same reason being used by 20 percent of the other Europeans.
So, it is obvious that financial issues are cited as the main obstacle of tourism in Romania and the rest of most of the EU citizens as well.
But not for all Europeans. Lack of interest or motivation to travel was a common reason and more important than financial reason in Sweden (60 percent), Slovakia (57 percent), Austria (38 percent), Germany and Finland (both 35 percent).