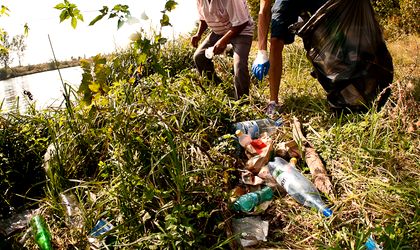 One in three Romanians is interested in taking part in environmental protection activities and is willing to bring along his group of friends, a recent survey shows. The survey was conducted by Reveal Research for Let's Do It, Romania.
According to the same survey, two out of three Romanians believe that waste collection activities from natural areas have the potențial to have an impact on the behaviour of others.
Acording to Let's Do It, Romania, the behaviour of Romanians towards waste when they make activities outdoors is damaging for nature. However, the study shows, eight out of ten Romanians regularly collect the waste they and their friends produce when they go out in nature. Moreover, 17 percent say they also pick up waste left behind by others. On the other hand, 4.5 of respondents do not consider themselves responsible for picking up waste, and 0.2 percent of respondents only say they forget to pick up the waste, due to a lack of time.
People over 46 and those who finished the tenth grade are the least willing to take part in waste collection activities.
"Apart from the trends, nowadays standard, that have to do with taking care of our bodies through food, sport, peace of mind, we are noticing in the past years also the wish of young Romanians to protect the planet.
"The results of research made for Let's Do It, Romania! show to us that mature people (aged 36-45) are the most optimistic, showing trust that these activities can bring changes at the level of mentality, trying through their own effors to educate their children (for those whi have very young children.)"
"On the other hand, looking at the age segment that are willing to get involved în such activities, we notice that young people aged up to 25 are the most active – and from here we can conclude that they are those who are increasing the awareness and the trust of adults when we are talking about this topic," Magda Visoiu, Qualitative Analyst with Reveal Marketing Research said.
Georgeta Gheorghe