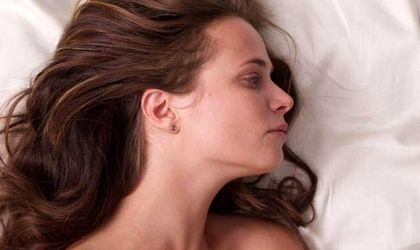 With the 67th edition of Berlinale just around the corner and the presence of a Romanian film in the main competition, our country goes once again on the spotlights of the international film critics around the globe. We will be represented by Calin Peter Netzer's latest movie, Ana, mon amour, starring Mircea Postelnicu, Diana Cavallioti and Carmen Tanase, among others, which tells the story of Toma and Ana, who meet as students at Literature College and quickly fall in love. But Ana's mental illness imperils their relationship. To find out more about this movie, Business Review talked with the leading actress of Ana, mon amour, Diana Cavaliotti.
Oana Vasiliu
What are the highlights of the 2017 Berlinale for you?
I haven't got a list yet. I'll be there for such a short time and I don't really think I will have time for anything else but to take care of the long list of interviews and photo sessions with the "Ana, mon amour" team. That's my highlight, for sure.
What does a film require to be selected in their competition in your opinion?
I think Berlinale is looking for filmmakers with a strong point of view, brave, insightful, for people who are trying to do something different, through well-told stories, to be able to speak to an audience, regardless of the country of origin.
Have you been to the Berlinale before? Any expectations?
Never been. No expectations. Only good vibes and excitement.
How did you approach Ana, mon amour project and the role?
I was extremely aware of the complexity of the work I was supposed to do, so before I let myself be excited, I took quite a long time to think if I was going to do it or not. The moment I took the decision though, I didn't have the time to fully enjoy the excitement, as I had a short time to get in touch with the story and the character. The team had already been working for many months and I had only 3 left for rehearsals, analysis, books, meetings and so on. So I just focused on the character as much as I don't recall anything from my personal life at the time.
What has been the biggest challenge during filming or was there any particularly memorable scene?
Every single day was intense, so I still find it very hard to choose just one scene. I feel that we had the same atmosphere you'll find in the movie during every single day of shooting, as well. For me, the way we made this movie come to life seems like a story within a story. Everything became personal, and the implication of psychoanalysis made me get in touch with Mircea and Calin on another level, where every word I would say (or they would tell me, as well) had another meaning also.  It was a uniquely challenging movie, as I also spent a short time with my colleague, Mircea, as roommates.
What do you find most interesting about your character?
Ana is a super-character, even thought she might not have the chance to tell you her side of the story. The story is presented through Toma's point of view and experiences. At one point, my character became my hero, as she saves herself, and the man she loved, at the same time, from a relation that was based on co-dependency. It takes a lot of courage and strength to withdraw yourself from something you call "love" but it doesn't feel like it anymore, or is doesn't represent the meaning of "love", as it was once felt. We tend to take shelter under this word, though we can't really define it at the time it consumes us, and it mostly consists of a game with no rules and borders.
About the Romanian presence at Berlinale 2017
Several other Romanian filmmakers are participating at the 2017 Berlinale Talents section, where 250 young filmmakers from 71 countries were invited to attend the six-day program exploring the theme Courage: Against All Odds. Among the participants are director Ilinca Călugăreanu, actor Alexandru Potocean, director Ioana Mischie, producer Andra Popescu, camera operator Carmen Tofeni, film distributor Mihai Truță and screenwriter Monica Stan.
The film project Caprioara (The Deer) of director Bogdan George Apetri and producer Oana Iancu is taking part in the Co-production Market, a section designed to meet a wide range of potential co-production and funding partners from around the world.
Romanian actor Tudor Aaron Istodor was selected in the Shooting Stars section.
Photo courtesy of Diana Cavallioti official Facebook page