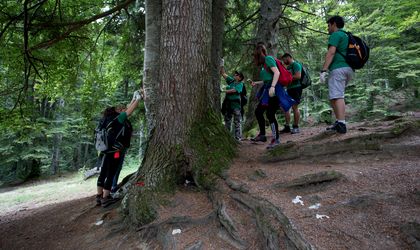 Two stages of the campaign Omnaisig for Omu were developed  in August. The first one was developed during five days at the beginning of the month and the other one was developed on August 29. At the two stages were present 35 volunteers, 10 from Association for Nature Oxigen and 25 from Omniasig Vienna Insurance Group.
Among the Omniasig volunteers were the CEO Mihai Tecau, the member of the board Bogdan Tudor, and Madalin Rosu, also member of the board.
The second stage of the project involved 10 volunteers of the Association for Nature Oxigen, which replaced the wood footbridges and the direction panels from the summer trek Pichetul Roșu –Malaiesti chalet– path Tache Ionescu. These elements were lacking or were damaged.
In the second stage were replaced the old chains and were fixed 150 m of chains on the areas with high risk, there were built new stairs in some difficult areas, while the existent bridges from the trial were consolidated. Moreover, there were built some indicators in the area Busteni- Pichetul Rosu and information panels at Malaiesti chalet, in Prepeleac area.
The third stage was developed on August 29 and focused on blazing the trails on trek area Gura Diham-Poiana Izvoarelor, which hadn't been blazed for five years. In this stage were present also the three members of the Omniasig Board.
"The responsibility for the environment define the entire Omniasig team. I hope that we helped the environment, the people, society. I wanted to bring a personal contribution to the hiking security of Omu peak. I think people will come more on the mountain treks and I hope they will be cleaner. I congratulate my colleagues for their volunteering and we'll make more actions of this kind. I hope we find more opportunities of this kind, as there are many more trails to be blazed. We hope our initiative to be taken over, other employees groups or companies to do the same," said Tecau.
The stages of the campaign until now accounts over 125 hours of work of the mountain lovers. The last stage of the project Omniasig for Omu will include the touristic development of Omu peak and will take place in September.