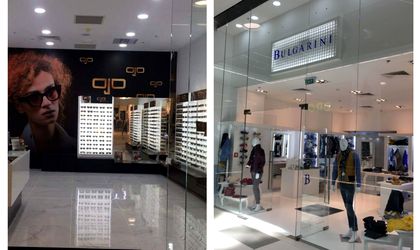 Mega Mall expands its portfolio of fashion brands with the opening of OJO sunglasses and Bulgarini stores.
OJO Sunglasses is a brand exclusively for sunglasses coming from Cyprus. In its first Bucharest store the brand offers sunglasses for women, men and children.
"We're glad to launch the first OJO Sunglasses location in Bucharest in Mega Mall. We are waiting for the clients of the commercial center to pass by our store and discover the quality of OJO Sunglasses. Our trained personnel will offer counseling to our customers during the selection, " said Simona Dinu, director of regional development.
Bulgarini is a luxury clothes and accessories Italian brand for men and women.
"The opening of  the first Bulgarini store in Bucharest is a natural step in the development strategy of the brand. We are glad to offer our Romanian clients the opportunity of benefiting from the same quality as Italian clients. We have also observed similar preferences between the consumer demand in Italy and Romania, which convinced us about the growth perspective that the Romanian market can offer us," said Luigi Palmarelli, administrator of Bulgarini.
Mega Mall is a complex retail project of the investments and development group NEPI, as a result of an investment of EUR 165 million.
Georgiana Bendre