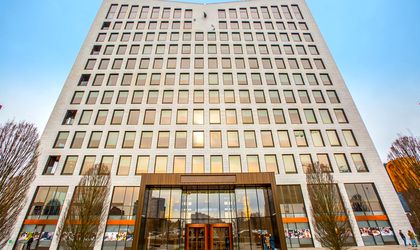 Did you ever think what the ideal office building to work in would look like? Perhaps what we see in the movies – with employees that are greeted by friendly faces, in well-lit spaces, where everybody socializes, and work looks fun – seems unreal. However, such spaces also exist in Timișoara, more precisely in the newest office building opened in the Openville mixed-use project developed in the vicinity of Iulius Mall.
In United Business Center 1 (UBC 1), employees are pampered with state of the art facilities and multiple benefits. From the very start you are faced with a view that announces a premium experience. Quality is apparent even in the slightest details, ranging from perfectly polished granite floors, walls with deeply elegant textures and combinations of materials, all the way to the lighting fixtures reminiscent of works of art.
12 floors of ultramodern technology
A visit to UBC 1 will have you get familiar with technology at an entirely different level than you would expect for an office building. Access to upper floors is achieved via key card-based access control systems and five high-speed elevators with touch screen control panels that are also fitted with special buttons for disabled individuals. There is little chance of getting bored during the short time spent in the elevator, as they are fitted with LCD screens that broadcast relevant announcements for the employees.
UBC 1 comprises a 13,000 sqm area spanning on 12 floors and accommodates the ultramodern headquarters of companies such as Atos and Intel. Each floor provides generous, open-space type premises, state of the art facilities, modern communications infrastructure, and benefits from the implementation of a smart management system that handles features such as indoor temperature, ventilation and lighting brightness. Moreover, UBC 1 is a green building, being built following LEED principles and fitted in accordance with industry standards, for the purpose of being environmentally friendly and generating a low energy consumption.
Beyond the inedited – triangle shaped – architecture, the façades of the UBC 1 building are made of stone and glass, which ensures an enhanced level of natural lighting. In addition to this, the higher the floor you are on, the more spectacular the panoramic view overlooking Timişoara becomes.
Premium working experience, discounts for a variety of services
The employees working here enjoy comfort in all its aspects, not only because they carry out their work in the best possible conditions, by also owing to the countless benefits entailed by the integration of their offices in the Openville mixed-use development. Located within walking distance, Iulius Mall provides them with all the necessary services, a great gastronomic variety for lunch breaks, restaurants and cafés for business meetings, stores
and even leisure destinations for unwinding after work. With all of these being concentrated in a single location, the time they save can be used with their family or friends. Moreover, the employees benefit from the Partner Card, a dedicated program that entitles them to discounts as high as 25% in more than 130 venues in Iulius Mall Timișoara, ranging from fashion brands, restaurants, and cafés, all the way to car washes, dry cleaners, travel agencies and beauty salons.
Such ideal work spaces will continue to appear in Timișoara throughout the development of the Openville project. To this date, the company delivered two office buildings on the market over the course of one year: UBC 2 (18,000 sqm, January
2017) and UBC 1 (13,000 sqm, December 2017). Construction works are currently underway for UBC 3 (19,000 sqm), and the works are due to commence over the upcoming period for UBC 0, the tallest office building in Romania (155 m height and comprising 27 floors). Per total, the office premises within the Openville project will add up to 130,000 sqm, thus shaping the business hub in the west of Romania.