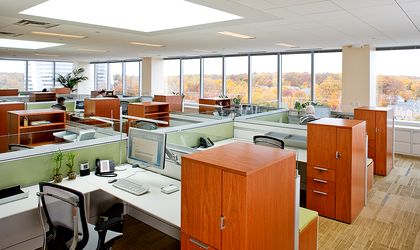 Over one third (37 percent) of medium sized companies moving into new office spaces during the first quarter of the year chose the center-north area of Bucharest, according to a study by Esop Consulting. The center-west and central areas each attracted 19 percent of the new tenants.
Overall, the volume of transactions with office space for medium-sized companies increased by 15 percent compared to the same period in 2015.
"The north-center area leads in preferences of tenants at this time because it holds the largest offer of new office space, newly delivered or soon to be delivered, giving medium sized companies' managers more options.
In the second part of 2016 and 2017 several new buildings of high quality standards will come into use in the other two areas, now in second place, the center-west and central areas, leading to more transactions in this areas also, and therefore a balancing of the market between the three poles of interest of medium companies," says Alexandru Petrescu, managing partner Esop Consulting / Corfac International.
Regarding the type of company managers elected for their office environments, Esop data revealed that 63 percent chose spaces in buildings business center and 37 percent opted for villas especially designed for commercial use.
The average area of office transactions brokered by Esop Consulting on this market segment increased from 268 sqm during the same period of last year, to 394 sqm in the first quarter of 2016.
Office spaces leased by companies had surfaces varying between 85 sqm and 1,000 sqm.
Esop is a real estate consultancy firm active for 14 years in the residential and office spaces markets. Starting with 2013 it works in partnership with Corfac International, its database including 760 business centers and over 2,000 villas, totaling some 2 million sqm.
Natalia Martian