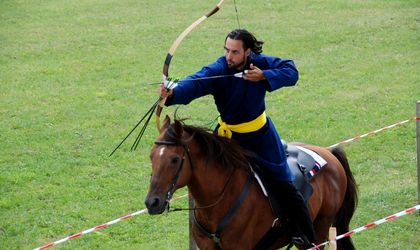 The finale of The Horse Saloon Circuit, a complex equestrian circuit in Romania, will take place during September 22-25 and will also bring a night show called "The horses evening".  The program includes riding stunts and mastership with Denis Stefan, a mastership show with Filimon Iordache and Georgiana Neselan and their troop together with Marlene, a Balkan champion at the European championship of artistic gymnastics.
"Equestria Club also organizes at this edition the indoor equestrial show named The horses evening. The spectators can see the sportive horse mastership show on the music rythms, free mastership and riding stunts, " said Ozana Moraru, the owner of Equestria Riding Staddle and president of Equestrial Club.
"Within the arch show we'll start with fixed target shooting and we'll continue with the mobile target shooting, even with the horse laied down, as were the old riding huntings, " said Stefan
Georgiana Neselan and the horse Pluto will hold an artistic mastership show with scarves at high altitude.
Moreover, the circuit will also have a show of Spanish mastership with the Isleno, the Spanish  stallion  Larosa, presented by Tiberiu Corches and one of his little students, Iulia Carabas, who is 10, together with two Flamenco dancers.
The entrance is free, but the night show requires the acquisition of tickets. The price is RON 60 and for children up to 12 years it's RON 30.
Georgiana Bendre