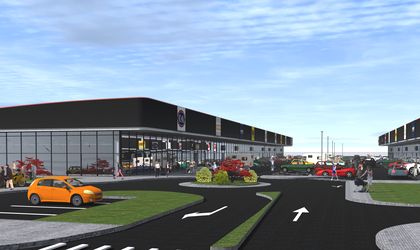 Oasis Retail & Development Consulting, the Sibiu-based developer of commercial centers, has announced the construction of the Prima Shops Oradea project. The retail park will need a total investment of EUR 12 million.
The new commercial center will be positioned in the center of the city, near the most developed district, Rogerius,  Prima Shops Oradea and targets the primary attraction area of 60,000 inhabitants, while the secondary area situated at less than a 10 minutes car drive exceeds 150,000 persons.
"When we chose Oradea for the project development we took into account the unemployment rate, respectively 3.6 percent, one of the lowest from Romania, on the income per capita, which is over the national average, as well as the fact that it's an important university center with 3,000 graduates annually," said Kurt Wagner, shareholder of Oasis Retail & Development Consulting.
"The created industrial parks attracted both workplaces and innovations. All these elements indicate a good consumption appetite and a demand for modern commercial spaces," added the official.
Interested in the local investors' performance?  We'll be revealing case studies, future plans, opportunities to learn and cooperate across markets at the Foreign Investors Summit 2016 – Where Romania means business – November 1-3, Bucharest
The financing of the project is based on the developer's own equity and the deadline for the construction of the first phase is forecasted for March 2017, while the second stage will be delivered in the last quarter of 2017.
The renting process has already started, the agent for the new commercial gallery being Colliers International.
Oasis Retail & Development Consulting has an experience of over 14 years on the commercial centers market in Romania and has over 70 finished projects.
Georgiana Bendre