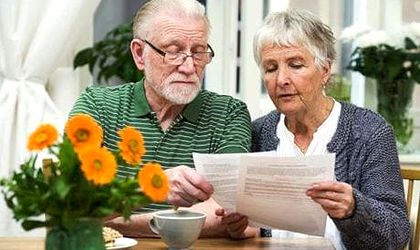 The average number of  pensioners went down by 29,000 in 2017 to 5.228 million, the average pension went up by 12.8 percent to RON 1,069, according to the data published on Wednesday by the National Institute of Statistics (INS). The ratio between the number of pensioners and the number of employees maintained at 9/10 in 2017.
Previously released data showed that the average monthly pension increased by 18.2 percent year on year to RON 1,132 (EUR 245) in the last quarter of 2017.
In 2016 the average monthly pension was RON 948 and the number of pensioners was 5.257 millions.
The overall ratio between the average number of pensioners of state social insurances and the average number of employees was 9 to 10 in 2017.
This ratio has significant variations on territory, from 5 pensioners to 10 employees in Bucharest Municipality, to 17 pensioners to 10 employees in Teleorman county.
"The average pension of state social insurances varied with significant gaps on territory, the gap between the minimum and maximum value exceeds RON 400 ( RON 825 in Botosani, RON 827 in Giurgiu, RON 850 in Vrancea compared with RON 1,304 in Bucharest Municipality, RON 1,282 in Hunedoarea, RON 1,226 in Brasov), " says the release.
The social insurances pensioners own the majority stake (99.9 percent) in the overall number of pensioners. The state social insurances pensioners represent 89.5 percent in the overall pensioners of social insurances.
On pensions categories, the number of pensioners for age limit was 76 percent within the social insurances pensioners.
"The average pension of state social insurances was RON 1,026 and the ratio between the average pension of state social insurances for age limit with complete contributions level and the net average salary was 52.8 percent," says the release.