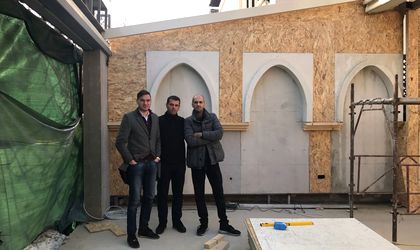 After taking a bite out of the Bucharest restaurant scene, Nuba's creators are working towards strengthening the brand's local presence before exporting their business model to the French Riviera and the British capital, Jean Sasu and Alexandru Nanu told BR.
Nuba, one of the most high-profile newcomers on Bucharest's restaurant scene, is gaining a steady following, a little over one year since opening at the end of 2015. Its summertime sidekick, Nuba Summervibes, which opened in June last year, is already receiving table reservations two months ahead of reopening. The latest addition to what will form the backbone of the nascent Nuba Group, Nuba Cafe, is set to open at the end of March in the capital's Dorobanti neighborhood.
The two venues reached breakeven point in just one month and posted a EUR 3.5 million turnover last year, a figure the founders expect to rise by 30 percent in 2017. BR sat down with Sasu and Nanu, who spoke enthusiastically about the idea behind the project, the role played by their backgrounds and their friendship with the third co-founder and shareholder Alin Negulescu, in setting up and running the business, as well as their ambition to expand in Romania and beyond.
The only local restaurant serving an exotic combo of Asian food with Peruvian influences, Nuba has a seating capacity of 35 tables and 140 covers. From 11pm, diners are treated to a program of live concerts and DJ sets, a concept that has proven a hit with the Bucharest crowd, say the founders. "We started from the idea of having a fine dining venue that later transforms into a club," said Sasu. "This concept is at the core of our business model and will be maintained across all our locations."
Nuba required an initial investment of EUR 300,000, and received another shot of EUR 80,000, in reinvested profits. The summer location, with a double seating capacity, was built from scratch on Herastrau Lake, in Bucharest's largest park, after a EUR 500,000 investment. Nuba Cafe, set to open on Radu Beller Street, will have 20 tables and 120 covers. "We estimated it would cost EUR 200,000, but we will likely spend EUR 300,000," noted Sasu. The cafe will open for breakfast and close at 11pm.
In little over one year since opening, the two venues have welcomed 50,000 clients and exceeded expectations. "We reached breakeven point in the first month and even posted a small profit. It came much earlier than estimated; it was a happy situation," Sasu told BR.
According to him, the financial success relied on several equally important factors. Firstly, the three are a close-knit team who share a good knowledge of Bucharest's nightlife, which helped them discover a gap in the market. "I personally know many of our clients. We discovered our competitors' clients, we studied them, plus I also put myself in the Nuba client's shoes and anticipate their needs," Sasu outlined.
Secondly, each of the three partners, who hold an equal share of the business, brought to the table decades of experience in connected fields.  "My background in media and events and knowledge of these fields helped me a lot. I was always connected to the entertainment market," said Nanu, who has additional experience in the travel sector. Sasu brought his background in finance and managing teams of people, while Negulescu drew on more than a decade of experience in HoReCa.
For the future, expansion is the keyword. Alongside plans to self-fund the creation of a chain of Nuba cafes nationally, the team aims to open a location at the Black Sea in 2018, and to apply for EU funding to expand into the travel sector by opening a boutique hotel in the mountains. "Soon, the three will start to look for foreign partners to expand abroad to Monte Carlo and London, two established entertainment markets they expect to enter within the next five years."
"We want to become a strong group with a large number of locations, in Romania and abroad," Nanu concluded.