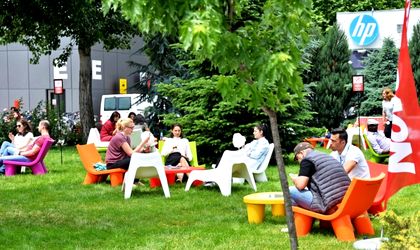 The Novo Park business park in the Pipera area, owned by Genesis Property, introduces free wifi and outdoor furniture for employees.
"Setting up an outdoor relaxation area is an important step in redefining employee experience in our office park. We are increasingly focusing on adding facilities to meet the needs of their community. Moreover, as of today, employees can sail freely on the internet, including when relaxing or holding a videoconference directly in front of the building, outdoors, "explained Liviu Tudor, president and founder of Genesis Property.
The investments in the two facilities amount to EUR 50,000, consisting of state-of-the-art re-equipment and outdoor furniture placed in the green area of ​​the park, in a 200 sqm area and consists of colorful tables and chairs, specially for outdoor use.
This area can be used for free either for relaxation, organizing a team event or for lunch or coffee.
"The presence of relaxation and solicited spaces is one of the top 5 facilities our tenants want and is an important aspect in ensuring their satisfaction. Through the investment, we want to contribute at the same time to the efforts of multinational companies in Novo Park to attract and retain talent, "added Stefan Tudos, vice president of Genesis Property.
Novo Park is one of the largest business parks in Bucharest, developed by Genesis Property and consists of seven buildings with a total rental surface of 75,000 sqm of class A office space. Novo Park is home to companies such as HP Inc Romania, Hewlett Packard Enterprise, DXC Technology, Infineon, Yokogawa, Luxoft, Sodexo, Garanti Bank and Unicredit Integrated Business Services Romania.