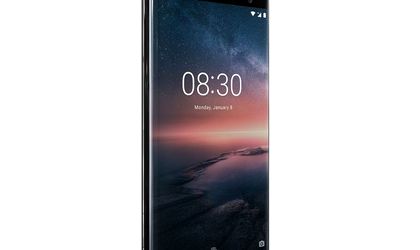 The latest Nokia brand phones, made by HMD Global, are officially launched in Romania. The flagship, Nokia 8 Sirocco, is already available at Telekom and other online partners, with a tag price of RON 3,321 with shipping starting next week.
Sirocco's design is inspired by Nokia legacy, elegant and compact, and is supposed to be the most beautiful smartphone made by Nokia so far. But we have to say that the curved screen resembles Samsung Galaxy S8 and S9, although different in size. And even if equipped with Snapdragon 835 chip, capable to do pretty much anything you need, it is still last year processor and this is not a plus for a phone launched in 2018.
With all that aside, the phone is exquisite, covered with premium curved glass and with body made from one piece of steel. The steel frame is 2.5 time stronger than aluminum from 6000 series, completed with Corning Gorilla Glass 5. The display is a 5.5 inch curved pOLED (plastic OLED) that looks very good. 6GB of RAM and 128GB storage is more than enough for pretty much anything.
Performance is in line with what a flagship should be and the dual camera on the back with Zeiss optics allows capturing good pictures, while the setting Pro Camera gives full control over the settings. Nokia 8 Sirocco is also joining Android One that keeps the software updated regularly and it has Oreo already installed. The phone will be available only in color black.
The price is quite high and it's in competition with the big guns of the industry, Samsung, Apple, Huawei, or even HTC and Sony. It will not be easy for Nokia to regain market quota even if the phone is comparable with the competition. A lower price would attract more customers, but it is not easy to cover the financial losses in order to raise market share.
Nokia 7 Plus
The other main smartphone brought to the market is 7 Plus, the one that is supposed to make the big number in sales (together with Nokia 6 2018). Ceramic on the back, Snapdragon 660 chip, the best for mid-range phones), dual camera and the price tag of RON 1,800 makes the 7 Plus a good buy. While the camera is similar to the one on 8 Sirocco, the device is packed with 4GB RAM and 64GB internal storage. The display is a 6 inch with 18:9 ratio Full HD+.
HMD presented also Nokia 6 2018 and Nokia 1, an entry-level smartphone with the price tag of RON 400. Of course, there was also Nokia 8110 Banana with 4G technology and a price around EUR 70. Nokia is still the biggest seller of feature-phone globally, with a total of 70 million las year.
HMD Global is trying to get some of the old power of the Nokia brand, based on the fact that the name is still in the memory of many customers. Still it will not be easy to compete with giants like Samsung, Huawei or Apple.