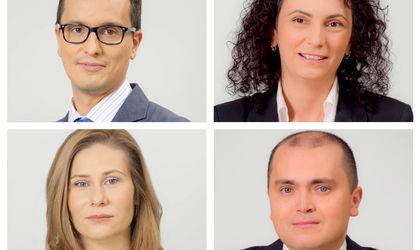 Nestor Nestor Diculescu Kingston Petersen (NNDKP) announced today the promotion of six lawyers to partnership, in one of the most important rounds of promotions within the firm in recent years. This step is part of NNDKP's strategy of continuously consolidating its position as a leader of the Romanian business law market.
Marius Ezer, Daniela Gramaticescu, Valeriu Mina, Oana Partenie and Catalin Radbata were promoted to partner within the Dispute Resolution Department, and Vlad Tanase was named partner within the Real Estate Practice of the firm.
In addition to the promotions at partnership level, NNDKP promoted eight lawyers on different levels of seniority: Lucian Vitelaru was promoted to Managing Associate within the Real Estate Practice, while Alexandru Aman, Cristian Dranca, Cristina Bajdiu, Ioana Vieru (Corporate/M&A Practice), Daniela Ghervas, Edgar Jakab, and Monica Timofte (Dispute Resolution Department) were promoted to Senior Associate positions.
"As pioneers of an activity sector where the capacity to anticipate and respond to an enhanced degree of sophistication constitutes an essential requirement, our goal has always been that of training lawyers with top expertise and professional skills. The quality of the team members, the structure of the firm and the market context have provided in over 25 years of activity, the proper environment for the professional training and development of several generations of lawyers who demonstrated, one after the other, that they have the necessary resources and the ability to mix our approach with the constant need of change of the domestic and international markets.
"Today, it gives me great pleasure to congratulate and thank Marius, Daniela, Valeriu, Oana, Catalin and Vlad for their significant contribution to the consolidation and permanent diversification of the activity of their practice areas. Furthermore, I am confident that the young lawyers promoted to the other levels of seniority will also contribute, with the same dedication, to the following stages of evolution and development of our firm", stated Ion Nestor, NNDKP Co-Managing Partner.
Starting with March 1, 2017, the NNDKP team will be comprised of 30 partners (25 lawyers and 5 tax advisors), over 145 lawyers and advisors and over 80 employees in the supporting departments.