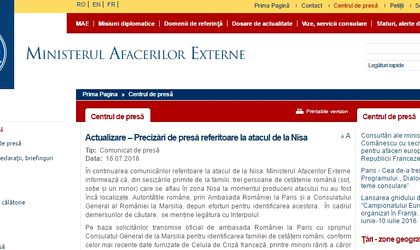 The Ministry of Foreign Affairs (MAE) said Saturday that it had started operations to find a Romanian family of three after their relatives said they couldn't get in touch with them.
The three citizens (husband, wife and minor) were in the French southern city of Nice when a lorry slammed through a crowd celebrating Bastille Day on the city streets.
The MAE said that the Romanian Embassy in Paris and the General Consulate of Romania in Marseille are working to find the missing family. The Interpol is supporting this operation.
The ministry said that among the children whose identity has not been established yet there is a minor that could be the Romanian one. The child is treated in a hospital in Nice.
"We mention that that on the official lists of injured and dead persons there aren't any other Romanian citizens aside from the two wounded persons that were announced in a previous press release. The identification operations of all casualties is underway on the French side," said the MAE in a statement.
The driver of the truck was identified as Mohamed Lahouaiej Bouhlel from Nice, who was born in Tunisia. The terrorist group ISIL claimed that responsibility from the attack, stating Bouhlel was a "solider" of the organization.
Ovidiu Posirca