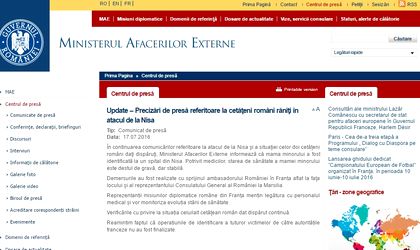 The Ministry of Foreign Affairs (MAE) said the missing Romanian mother was identified on Sunday in a hospital in Niece. She is in a serious health condition, but stable, according to doctors.
The news came hours after the son of the Romanian couple was found in a children's hospital in Niece. He is in a stable condition.
At the moment, authorities are still looking for the father.
The family of three was reported missing after the July 14 attack in Niece. A driver rammed a truck into a crowd of people that were celebrating Bastille Day. According to French authorities, 84 people died in this attack, which is treated by authorities as a terrorist one.
Two other Romanians were injured in the same attack.
PM Dacian Ciolos said Sunday that he talked with his French counterpart Manuel Valls about the Romanian citizens that were missing following the tragedy.
Ovidiu Posirca