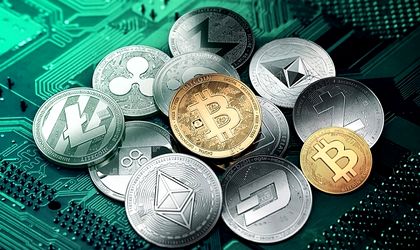 The world of cryptocurrencies is new, risky, and unpredictable, but Forbes has made a list of the people who have become billionaires overnight by trusting their instincts and investing in the right coins at the right time.
The top crypto billionaire, Chris Larsen, had an estimated net worth of up to USD 20 billion at the top of crypto mania, but since then XRP tokens, of which he owns 5.2 billion, have lost over half of their value. Still, he's worth around 8 billion dollars.
Binance, the largest cryptocurrency exchange in the world, got to this level in only 180 days from its inception. It was founded by CZ (Changpeng Zhao), a 41-year-old Chinese-Canadian coder with experience in the high-frequency trading system on Wall Street.
Binance can process 1.4 million transactions a second. There are 120 coins available for trading, and the platform generated a profit of USD 200 million only in the last quarter.
The nearly 1,500 cryptocurrencies which have been created have an aggregate value of USD 550 billion, up 31 times since the start of 2017. According to Forbes, the average 2017 price change of Bitcoin, Ethereum and XRP, the most popular coins, is a whopping 14,409 percent.
Blockchain technology is definitely revolutionary, but the cryptocurrency market is still extremely volatile and governments haven't yet figured out what to do with it and whether they should regulate it or leave it be.
Romanian economist Daniel Daianu recently made a clear distinction between blockchain and cryptocurrencies, saying that the coins are "speculative assets" that are not secure, while blockchain technology is actually very useful and provides good security.
The fortunes presented by Forbes are only estimations, as crypto assets have significant fluctuations on a daily basis.
Forbes' Top Crypto Rich List:
Chris Larsen (Ripple) | USD 7.5-8 billion
Joseph Lubin (co-founder of Ethereum, founder of Consensys) | USD 1-5 billion
Changpeng Zhao (Binance) | USD 1.1-2 billion
Cameron & Tyler Winklevoss (Gemini) | USD 900 million-1.1 billion
Matthew Mellon | USD 900 million-1 billion
Brian Armstrong (Coinbase) | USD 600 million
Matthew Roszak (Tally Capital) | 900 million-1 billion
Anthony Di Iorio | USD 750 million-1 billion
Brock Pierce | USD 700 million-1 billion
Michael Novogratz (Galaxy Digital) | USD 700 million-1 billion
Brendan Blumer (EOS.IO) | USD 600-700 million
Dan Larimer (EOS.IO) | USD 600-700 million
Balery Vavilov (Bitfury) | USD 500-700 million
Charles Hoskinson (IOHK) | USD 500-600 million
Brad Garlinghouse (Ripple) | USD 400-500 million
Barry Silbert (Digital Currency Group) | USD 400-500 million
Vitalik Buterin (Ethereum creator) | USD 400-500 million
Tim Draper (Draper Associates) | USD 350-500 million
Song Chi-Hyung (Dunamu) | USD 350-500 million