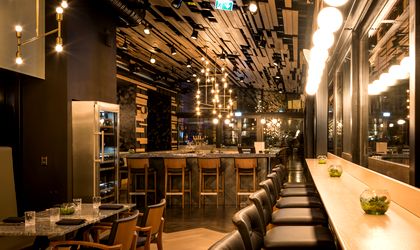 The hotel Radisson Blu in Bucharest  announces the opening of a new restaurant with Asian specific: Ginger sushi bar & lounge.
The dishes are inspires by Asian cuisine, the emphasis is on sushi dishes and sea fruits, as well as others, all prepared in the opened bar in the middle of the restaurant.
Besides the Asian beverages, the location has also a selection of wines.
The location is opened from Monday to Wednesday from 6 PM until a 1 AM and from Thursday to Saturday from 6 PM to 3 AM.
The Asian chef Phursang Lama, born in Nepal, with an experience of over 10 years in hospitality industry and restaurants in Arab Emirates and Saudi Arabia, is part of the team.
Chef Phursang Lama
"We are glad to have Chef Phursang Lama in our team. I am sure that he will bring added value to this location," said Markus Kraus, general director of Radisson Blu and Park Inn by Radisson Bucharest.
Radisson Blu is one of the international top hotel brands, operating more than 300 hotels in 69 countries.