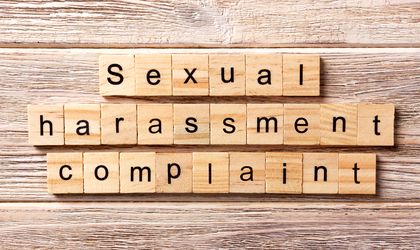 The new provisions on the fines for sexual and psychological harassment have been published in Romania's Official Gazette. The fines range from RON 3,000 to RON 10,000 and will be enforced in those cases when the criminal code does not classify the act as a misdemeanor.
"Any harassment act, sexual or psychological harassment, defined according to the present law, both in public and in private are forbidden," a new article amending Law 202/2002 on gender equality published in the National Gazette reads.
Breaching the provisions on harassment, sexual harassment and psychological harassment is punishable with fines that range between RON 3,000 and RON 10,000.
The assessment and enforcing of the fines are made by the Ministry of Internal Affairs (MAI), via the officers and agents of the Romanian Police, those of the Gendarmerie, the Romanian Border Police, as well as the local police.
The new law, which was enforced in Romania starting next Monday and defines harassment as "the situation in which an unwanted behavior related to the sex of the person occurs, having as its object or effect the violation of the dignity of the person concerned and the creation of a hostile, intimidating, degrading, humiliating or offensive environment."
Sexual harassment is defined as "the occurrence of unwanted conduct with sexual connotation, expressed physically, verbally or non-verbally, having as its object or effect the impairment of a person's dignity and, in particular, the creation of a hostile, hostile, degrading or offensive environment", and psychological harassment is understood to mean" any inappropriate behavior that occurs at a time is repetitive or systematic and involves physical behavior, oral or written language, gestures or other intentional acts that could affect personality, the dignity or physical or psychological integrity of a person, "the law also states.