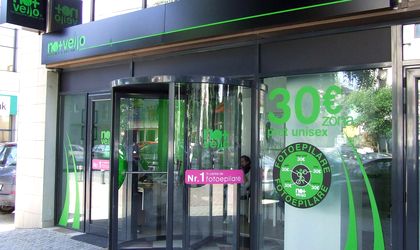 UPDATE: A new No Mas Vello center opened in Timisoara and three more will soon fallow in Bucharest. The ones in the capital will be located in Afi Palace, and in Unirii and Titulescu neighborhoods. The new locations are the first franchise expansions, say company representatives.
—
No Mas Vello, a Spanish company offering light depilation services, has recently entered the local market and plans to open 100 beauty centers in the next three years through franchising.
The franchise costs EUR 30,000 and includes the light depilation equipment, an entry fee, furniture, advertising, equipment, and training and assessment services. The franchisee has to pay a EUR 300 monthly franchise royalty as well as a monthly advertising fee worth EUR 100.
"In the worst-case scenario the investment is recovered in a year and a half", said Nicoleta Mincu, franchise development manager. She added that there is an increasing demand for such beauty services in Romania, targeting socially active women and men, aged between 16 and 55. "No Mas Vello differentiates itself from other similar beauty centers through a unique price policy of only EUR 30", said Mincu.
The company currently operates a network of 650 beauty centers in countries like Spain, Portugal, Brazil, Mexico, Bulgaria Poland and Romania.
Simona Bazavan