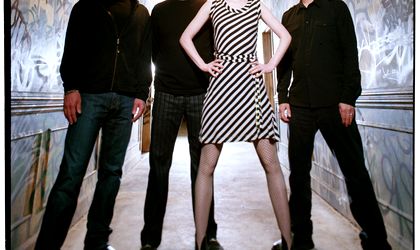 B'Estfest will take place between July 6-8 at the B'Estfest Summer Camp.
The most important headliner announced so far at B'Estfest is the American rock band Garbage, which has sold over 17 million records worldwide.B'Estfest will take place between July 6-8 at the B'Estfest Summer Camp.
With a dangerously hot Scottish songstress, Shirley Manson, and three American musicians- Duke Erikson (bass, guitar, keyboards, percussion), Steve Marker (guitar, keyboards) and Butch Vig (drums, percussion)- Garbage is one of the consecrated bands that have managed to sound catchy without sliding into compromise.
Their most famous songs include Only Happy When It Rains, Stupid Girl, Cherry Lips or The World Is Not Enough.
After a long hiatus, Garbage reunited in the studio in 2010 to work on their anticipated fifth album Not Your Kind of People, which has not been released yet. It will see the light of day on May 14th this year.
Dutch jazz singer Caro Emerald has also been confirmed at B'EstFest. A relatively frash face on the international music scene, Caro Emerald shot to fame in 2009 when she released the single Back It Up.
The debut album Deleted Scenes from the Cutting Room Floor set a record in The Netherlands, remaining on Nr. 1 in the Dutch album chart for 30 consecutive weeks.
Belgian musician and songwriter Selah Sue who launched singles such as Raggamuffin, Crazy Vibes and This World was also among the batch of artists confirmed at B"Estfest.
Mala Vita's music is rooted in energetic pop traditions like Balkan punk, hip hop, rock, Latin, soul and ska. The band will be playing, as they do, in English, Spanish, Italian, Servo-Croat and French at B'Estfest.
Drum and bass act The Qemists, consisting of bassist Dan Arnold, drummer Leon Harris and guitarist Liam Black, are an emerging act whose singles were featured in video games and even film soundtracks.
Last but not least, the rock stage at B'Estfest will introduce artists such as Kreator (already confirmed) who are joined by Obituary and Meshuggah.
Otilia Haraga