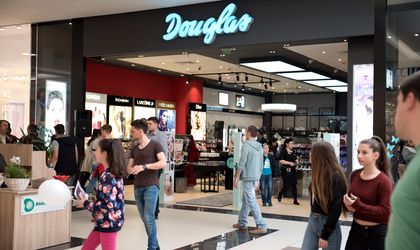 Parfumerie Douglas Romania launched its second store in Timisoara, in the recently opened Shopping City Timisoara, according to a company press release. "In addition to expanding the network, Douglas will also focus on developing its own brands, diversifying the shopping experience and developing omni-channel abilities," stated Lavinia Ivas, country manager Douglas Romania.
This is the company's nineteenth national store, and offers around 10,000 personal care and perfumery products. "We are operating on an extremely dynamic market, and the product portfolio is changing with the new trends. In the first quarter of this year, two new brands were brought into the Douglas stores, EOS and Foreo, both innovative products, new entries on the local market," added Ivas.
In terms of preferences, consumers are looking at "new, innovating or exclusive products," according to the Douglas company. Organic products are also among the new trends in demand, with the EOS brand falling under this category.
The Douglas in-store offers include services like the Skin Expert Bar, which offers free sessions of skin analysis and mini-facial treatments, and the Make-up Point, which has a capacity for four make-up posts.
In Romania, the Douglas network has a total of 19 stores in 12 cities, covering the central and west areas of the country. The company entered the local market in 2007.
In 2014, Douglas Romania registered a turnover of RON 61 million, seeing a 12 percent growth from 2013.
At the European level, there are around 1,700 Douglas stores in 19 countries.
Andreea Tint