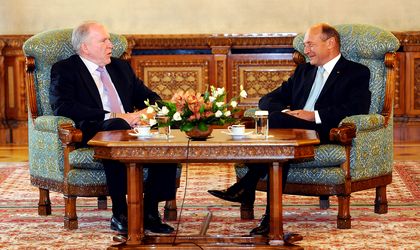 The new director of the Central Intelligence Agency (CIA ) John Brennan (in picture left) met this Tuesday the Romanian president Traian Basescu and PM Victor Ponta, as part of his first official visit to Romania in his new position.
Discussions focused on the cooperation between the two countries and the strategic partnership between Romania and the United States.
Talks with Basescu included topics such as security issues generated by the Arab Spring, the Middle East situation and an analysis of security improvements following the U.S. missile defense location in Romania.
John O. Brennan was sworn in as Director of the Central Intelligence Agency this March.
He previously served at the White House for four years as Assistant to the President for Homeland Security and Counterterrorism.
Brennan began his service in government at the CIA, where he worked from 1980 to 2005, according to data available on CIA's site. He began by working in the Agency's main analytic arm, the Directorate of Intelligence, specializing in the Near East and South Asia and later moved on to direct counterterrorism analysis in the early 1990s. In 1994 and 1995 he was the Agency's intelligence briefer to President Bill Clinton.
He afterwards had an assignment as a Chief of Station in the Middle East, and between 1999 and 2001 he served as Chief of Staff to George Tenet, who at that time was Director of Central Intelligence. Until 2003 Brennan worked as Deputy Executive Director of the CIA and in 2004, he became the Center's Interim Director. He retired from the CIA in 2005 and for the next three years he worked in the private sector.
Brennan graduated from Fordham University in 1977 with a bachelor's degree in political science.  In 1980 he earned a master's degree in government with a focus in Middle Eastern studies from the University of Texas at Austin.
He was born on September 22, 1955, in North Bergen, New Jersey.
Simona Bazavan