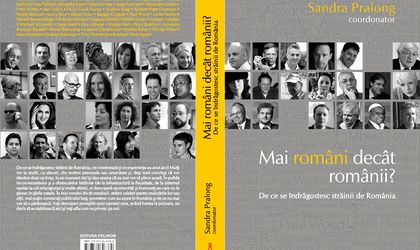 More Romanian than the Romanians? Why do Foreigners Fall in Love with Romania? (Mai romani decat romanii? De ce se indragostesc strainii de Romania?), an anthology of contributions from locally based expatriates, will be presented on Thursday 20 June at the Humanitas Cismigiu bookshop on Boulevard Elisabeta between 6pm and 8.30pm. The title, published by Polirom, was the brainchild of international development and communications adviser Sandra Pralong, a former director of Newsweek.
Pralong embarked upon the project because "I wanted another perspective," she said. "Why do foreigners love Romania but Romanians don't? I wondered what others see in us – and in our country – which we're missing; what is the thing in front of us to which we are blind but which others see and appreciate? In essence, the book is about this simple thing: reasons to love Romania."
Mai romani decat romanii? is printed in Romanian, though there are plans to produce an English-language version in the future. Of the 45 expatriates who contributed chapters to the book, Pralong commented, "Every one of them now stays in our country 'willingly', not because they have to… Despite having not only their own countries but the whole world at their feet, these people have decided to settle in Romania. Why? Their responses are surprising, perhaps especially because of their relative similarity: in a word, the main reason most of these people live in our country is that they see beauty here."
Pralong added that she hoped the anthology would encourage the reader to ask what it means to be Romanian. "Is the chance event of being born in Romania, or to Romanian parents, sufficient qualification? Legally, perhaps, but morally I want this book to dare to advance a simpler and truer definition: 'Romanians' are those who love this country and its people!"
The volume was launched earlier this month at Bookfest, at Romexpo, and became Polirom's best selling title at the event. The contributors are Raed Arafat, Steven van Groningen, Graham Perolls, Rupert Wolfe-Murray, Jakob Hausmann, Werner E. Stein, Alison Mutler, Michael Kammrath, Philippe Coupé, Yuexia Lushi Liu, Ian Tilling, Alexandre Eram, Tessa Dunlop, Serge R. Gonvers, Alessandro Amato, Peter Hurley, Jean Valvis, Paulin Frank Nucea, Andrew Begg, Robbert Peter Oostveen, Walid Abboud, Nancy Clayton Rice, Mbela Nzuzi, Raegan Glugosh, Paul Wood, Leslie Hawke, Pamela Roussos-Ratiu, Roberto Musneci, Joaquin Bonilla, Debbie Stowe, Laurent Couderc, Michael Schroeder, Sapta Sheel, Donald Lothrop, Wajiha Haris, Irina Budrina, Giovanna Benazzo Bassetti, Steven Borncamp, Laurent Chrzanovski, Krishna Bohat, Nicolas Triboi, Marco Ferraris, Graham Robinson, Anthonia Timmeram- Buzing and Chris Agnew, listed in order of the date they moved to Romania.