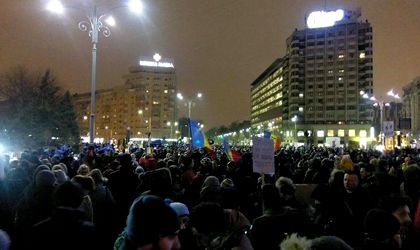 Several civic associations have announced that they will organise a new anti-corruption protest in Bucharest on Saturday, January 20.
The protest has been named "All roads lead to Bucharest. The 'revolution' of our generation" on Facebook.
The main reason for the protest is the draft legislation for the justice system and the criminal code proposed by parliament members in the last two months, which has been subject to expedited procedures to pass through the legislative forum. Protesters are calling recent actions "an assault on Romanian democracy" by the PSD-ALDE coalition.
Organisers are hoping to attract more people than they did for other recent protests, asking participants to invite friends, print brochures and other information materials, as well as offer accommodation or transport for people from other parts of the country. Protesters are also urged to ask for the support of influential people who have a large following.
The protest will most likely take the form of a march starting in Victory Square, where the government is located, to the Parliament.
In anticipation of the Saturday protest, a group of people from Cluj-Napoca have committed to a "March of Hope" to Bucharest – travelling around 450 km on foot to participate in the gathering and raise awareness of their cause. They are now less than 100 km away from their destination.
This week a new political crisis was created as PM Tudose lost his support from the members of his party and resigned from his position. Two days later, Klaus Iohannis accepted a new proposal for prime minister by PSD – Viorica Dancila.